The Women of Chapman hosted their 31st Annual Christmas at The Ritz. The event took place at the Island Hotel in Newport Beach and raised more than $291,000 for Chapman University. The funds will go towards pledges the organization has designated for the Digital Media Arts Center, The Musco Center for the Arts, and the Keck Center for Science and Technology
The Women of Chapman is a group of individuals including alumni, parents and friends of Chapman University who feel strongly about supporting education. Membership is exclusive and Christmas at The Ritz is the signature event for this group who meet regularly. The event had 365 people in attendance and featured both a live auction and a raffle for a variety of items such as a wine package and pieces of jewelry.
While Christmas at The Ritz is designed as a fundraiser, attendees enjoyed a luncheon with carolers, photos with Santa and his helpers, and fashion models featuring jewelry and gowns from Sax Fifth Avenue.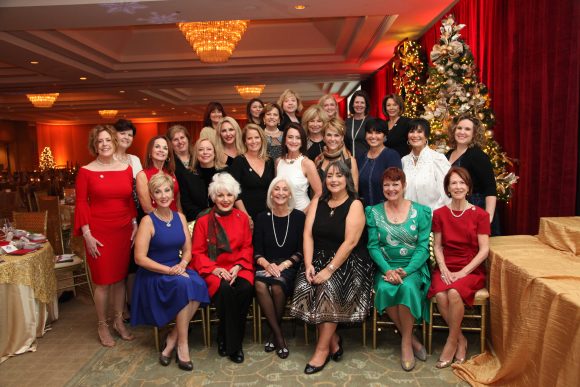 "The Women of Chapman are a wonderful group of ladies who are strong advocates for education, and also like to have fun at the same time," said Andi Doddridge, Chapman's assistant director of events and programs, and also the staff liaison for the Women of Chapman. "The group does so much for the University and most people are not aware of their existence."
For example, the Women of Chapman have current pledges totaling $2.5 million in support of three major capital campaigns, making this the largest pledge in Women of Chapman history. These gifts have named the Women of Chapman Stage in the Musco Center for the Arts, along with new educational and collaborative working space in the Digital Media Arts Center. The final portion of the pledge is in support of the Center for Science and Technology opening in fall 2018.
Now in its 31st year, Christmas at The Ritz event originally took place at The Ritz restaurant in Newport Beach's Fashion Island mall. When the restaurant closed in 2014 after 37 years, the Women of Chapman kept the name of their event and moved it to The Island Hotel, also located in Fashion Island.
Starting with just 35 members when it was founded in 1971, the group (originally called "The Fashionables") now comprises more than 275 members. Over the past four decades, the Women of Chapman has given more than $6.25 million in gifts to support Chapman University.  Gifts from Women of Chapman have been designated for student scholarships and various programs and capital campaigns across campus. More on the history of the Women of Chapman can be found here.
"The friendships formed here are deep-felt and solid. I love this group because it is not a stereotype," said past Women of Chapman President Donna Bunce. "There are ladies of all ages and all walks of life in the Women of Chapman who have a common vision to help make Chapman University the best it can be."