Imagine being that rare college artist who gets to work on a Getty project. That's the gig Chapman University art major Cooper Richmond '18 landed this semester.
Richmond was selected to assist renowned mural artist Higgy Vasquez in the creation of a new campus mural that is part of the University's contribution to the Getty Foundation's ambitious Pacific Standard Time: LA/LA. The project is a sweeping assemblage of some 70 visual and performing art shows, exhibitions and displays across Southern California exploring Latin American and Latino art.
"As a painter, this provides a unique opportunity to work at a scale that's beyond anything I've done before. It's especially cool because it's larger than life, but each detail is so important," Richmond says.
Chapman is one of just four Orange County institutions selected for the project. Participating organizations stretch west from Los Angeles to Palm Springs and south from Santa Barbara to San Diego.
For Vasquez, it's also a historic moment in his family's history. Nearly 40 years ago, his father, Emigdio Vasquez, painted a 40-foot-long mural on the exterior walls of a small apartment complex in Old Towne Orange. Though separated by time and distance, the two murals are together in the Chapman exhibition, connecting two generations of Southern California muralists.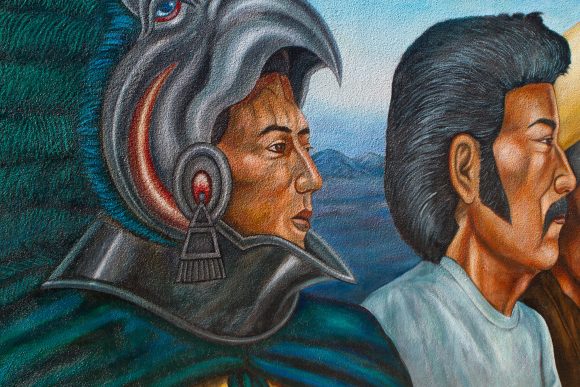 The first mural, El Proletariado de Aztlán, portrays generations of workers and Mexican- American history with depictions of an Aztec warrior, immigrant farmers, local barrio residents, the neighborhood store, car culture, revolutionary leader Che Guevara and labor leader Cesar Chavez among its scenes. It is located on the exterior wall of a small apartment complex at 446 N. Cypress St. owned and maintained by the University. The mural was restored in 2014 by Higgy Vasquez.
The new mural on the wall flanking the courtyard near Moulton Hall will be a timeline- like reflection of Chapman history, with nods to founder C.C. Chapman and significant campus events, like the 1961 visit of Martin Luther King, Jr. Painting the mural will be a semester-long project for Vasquez and Richmond, with further assistance expected to come from Orange High School students.
Particular components of the mural hit home for Vasquez, who grew up near the campus.
"To show C.C. Chapman and his Valencia orange trees is important to me for the fact that my family picked and packed oranges," he says.
The hardest part of the mural is the sketching and outlining, Vasquez notes as he and Richmond prepare the wall-sized canvas for the later stage when they apply the color. Some elements have been revised as many as 50 times. "We're striving for perfection," Vasquez says.
Although he hails from a small town 3,000 miles away, Richmond also feels a special connection to the murals.
"I can relate to the sense of the small-town feel and the community values because that's  a lot of what I remember growing up in Rhode Island," he says.
The new mural is supported with a gift made by the Ellingson Family.
In addition to the murals, the larger "My Barrio: Emigdio Vasquez and Chicana/o Identity in Orange County" project features two additional shows.
A Guggenheim Gallery exhibition features about 30 works in a variety of media by contemporary artists, including highlights from Emigdio Vasquez's prolific oil painting career, curated by Natalie Lawler, and professors Denise Johnson and Marcus Herse.
An Argyros Forum showcase of archival objects, ephemera and photographs focuses on Chicanos in Orange County, curated by students in Johnson's 2017 January interterm class on Chicano Muralism.
Pacific Standard Time: LA/LA continues through January 2018.
Display image at top/Artist Higgy Vasquez and student assistant Cooper Richmond '18 work on a new campus mural that connects to Chapman's history and to the Getty Foundation's ambitious Pacific Standard Time: LA/LA project.
Photos of the Cypress Street mural, El Proletariado de Aztlán: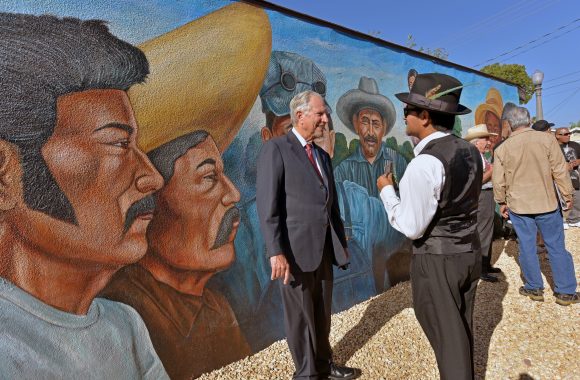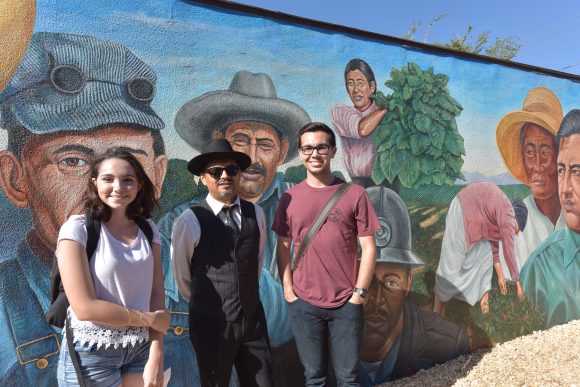 Photos of Higgy Vasquez and Cooper Richmond '18 working on the new campus mural: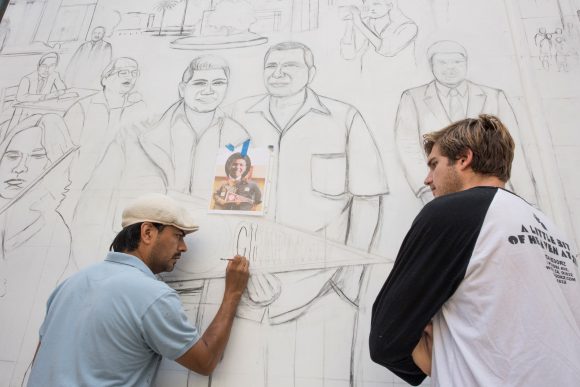 Photos/Dennis Arp
This story appeared in the fall 2017 issue of Chapman Magazine.