A record-setting 10 professors are the newest members of Chapman University's Million Dollar Club, a distinction awarded by the Office of Research and University Advancement to faculty who have brought in $1 million in external funding and donations while at Chapman.
It is the largest cohort to receive the honor, representing disciplines throughout the campus, from computer science to history. Such growth is emblematic of Chapman's rising strength and reputation as a research institution, said Thomas Piechota, Ph.D., Chapman's vice president for research. Moreover, it builds academic standing in the scholarly community, he said.
"Research and creative activity help both our students and our faculty, but they also enhance our national reputation," Piechota said during the first State of Research and Creative Activity Address, at which the faculty were formally honored.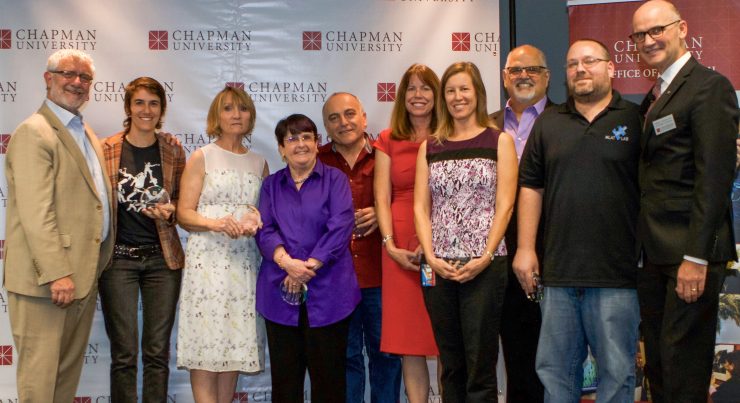 Piechota's report also highlighted several other signs of research growth at Chapman, including a 22 percent jump in research expenditures in 2016, up to $6.55 million.
In addition, in 2017 the University established 31 partnership agreements for research with outside organizations, evidence of the University's expanding reach and respect, he said.
"The work we do at Chapman has real economic impacts, in terms of the growth of our community. … Much of that work is sponsored by external entities and donors, and that's what enables a lot of this work," he said.
The presentation helped kick off Discover Arts & Research Week, a series of events celebrating student and faculty research and creative activities.
The Million Dollar Club has grown to include 30 faculty members since its founding in 2007.
2017 Million Dollar Club Honorees:
Don Cardinal, Ph.D., professor, Attallah College of Educational Studies and director of the Thompson Policy Institute on Disability and Autism. Cardinal leads efforts to study and impact policy affecting people with disabilities.
Emmanual Dinnat, Ph.D., a member of the Center of Excellence in Earth Systems Modeling & Observations. His research uses next generation space borne instruments that monitor ocean salinity with application to the coastal zone and cryosphere.
Jennifer Funk, Ph.D., associate professor, Schmid College of Science and Technolog. Funk studies nitrogen fixation and plant growth strategies, research sponsored by US Department of Agriculture and National Science Foundation.
Laura Glynn, Ph.D., professor in the Crean College of Health and Behavioral Sciences. Glynn's focuses on examining the interplay between biological, psychosocial and behavioral processes in human pregnancy and the influences of these processes on fetal/child development.
Armen Gulian, Ph.D., a senior research scientist and director of Chapman's Advanced Physics Laboratory, located in Burtonsville, Maryland. His research evaluates the advancing the science of room-temperature superconductivity in materials. He has extensive support from the U.S. Department of Defense – Office of Naval Research.
Marilyn Harran, Ph.D., professor of history and religious studies and director of The Rodgers Center for Holocaust Education and a Stern Chair in Holocaust Education. Harran is an internationally recognized a leader in Holocaust education and research.
Erik Linstead, Ph.D., assistant professor, Schmid College of Science and Technology. His research uses machine learning and assistive technology in areas including the Evaluation of the relationship between intensity and learning outcomes in the treatment of Autism Spectrum Disorders.
Jan Osborn, Ph.D., associate professor in the English Department within Wilkinson College of Arts, Humanities and Social Sciences. Her current research is collaborative with the new Smith Institute for Political Economy and Philosophy and explores integrating economics and ethics.
Sally Rubin, assistant professor at Dodge College of Film and Media Arts. Rubin is a documentary filmmaker and editor who has worked in the industry for more thanb 15 years. Her documentaries have been widely viewed on networks such as PBS and have been nominated for an Emmy.
Vernon Smith, Ph.D., professor in the Argyros School of Business & Economics and Fowler School of Law. Smith was awarded the Nobel Prize in Economic Sciences in 2002 for his groundbreaking work in experimental economics. Most recently, he was instrumental in securing the Smith Institute Gifts sponsored by the Charles G. Koch Charitable Foundation.