It's hard to imagine that Taylor Lee Patti '17 was ever afraid of anything. After all, this is a scholar who triple-majored her way through Chapman University, recently earning degrees in physics, math and Spanish. Going where few undergrads dare, she gave a talk on her research to the American Physical Society and guest-lectured at the Perimeter Institute, a mecca of foundational physics. What's more, she co-authored several peer-reviewed research papers, including one on quantum foundations with Chapman Professor Yakir Aharonov, Ph.D., a National Medal of Science winner.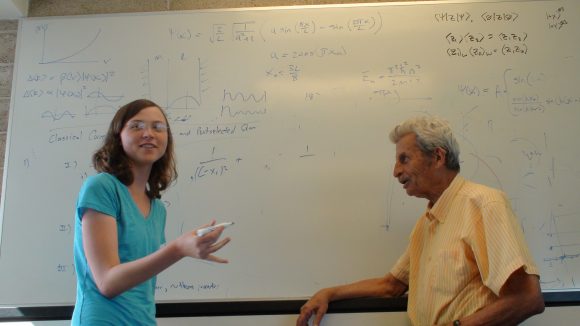 One upon another, Patti has faced expansive challenges and invariably made them her own. As a result, she earned the Cecil F. Cheverton Award – Chapman's highest student honor.
"Taylor is OK with herself at some deep level," says Justin Dressel, Ph.D., an assistant professor of physics at Chapman and a mentor of Patti. "That frees her to a large degree to pursue what she's interested in without worrying about peer pressure or other pressures some find debilitating."
But it wasn't always so.
When Patti arrived at Chapman from Medford, Ore., four years ago, her academic path was anything but certain. She certainly didn't see herself pursuing math or – gulp – quantum physics.
"I saw myself as incapable of these things, and probably many others," she says. "People in physics are geniuses, and geniuses don't look like me."
Patti endured powerful bouts of trepidation as she fell victim to impostor syndrome – a persistent sense of inadequacy, of being exposed as a fraud. Even as she explored the rigorous discipline of physics, acclimating herself little by little during introductory classes, she assumed that this little experiment ultimately would end in failure.
She  remembers sitting in the  office of Eric Minassian, Ph.D., her professor in Physics 107, and telling him, "Everyone thinks I'm better than I am." She heard back, "I promise that despite your 19 years of doubt,  you can do this." When  Patti's confidence still lagged, Minassian's response was life-changing, she says.
"Growing up female and lower-working-class, I was never encouraged to pursue physics, math or computer science. This all changed when I came to Chapman. Our faculty recognized and fostered my talents, so in turn I now pay their support forward."

-Taylor Lee Patti '17, in her Cheverton Award essay
"This is where you belong," he said. "I'll have the confidence for both of us."
Later came another turning point during Patti's inaugural semester as a physics major. She and her classmates in Linear Algebra had heard from their professor, Mohamed Allali, Ph.D., that papers he was grading so far were missing the mark by a wide margin.  So days later, when Patti got her paper back with a "98" and a "Nice job" at the top, along with a note that hers was the highest score in the class, she didn't know how to react. At the end of the class, she walked silently to her car, where she took a moment to stare at the paper and savor the accomplishment. There, beside her aging Chevy Aveo, she started laughing. Boisterous, hysterical laughter – the sound echoing off Crean Hall like a gleeful and liberating manifestation of belief.
"I realized the thoughts that I wasn't good enough weren't true," she says. "That moment and others have been liberating all the way around. When I do well, I can imagine the universe – that math and logic work like this; the proofs and exercises open up, and you just know that this is the most interesting stuff in the world. Surrounded by these classes, these students, these professors, I realize that this is better than anything else I could be doing."
These days, Patti is continuing her research as a Ph.D. candidate at Harvard University, the next stop on her passage into a deep exploration that she now sees as a lifelong pursuit. She could have taken this post-graduation summer to decompress, maybe travel or just relax before starting the next phase of her demanding adventure. But no one was surprised that she decided to dive right into a new research project at Harvard.
"These are collaborations that I mesh with, and that's what it's all about," she says. "That's why I get up in the morning – to work on interesting things. A lot of times things get in the way of that feeling. Like Chapman, this is a place where that feeling can happen."
As Patti heaps praise on her faculty mentors and student peers, especially at Chapman's Institute for Quantum Studies, she also acknowledges her earliest teacher and role model: her mother. A single parent, Patti's mom has been her consistent champion.
"Growing up, the best thing my mom did was let everything have natural consequences," Patti says.
After middle-school years she describes as "rambunctious," Patti knuckled down in high school. Her reward was a choice of colleges, including Chapman, which she targeted for its academic rigor and its reputation for generous need- and merit-based aid.
But along the pathway to Chapman, Patti developed academic assumptions about herself. "I thought I was bad at math and physics," she says.
Since then, she has learned about how young learners can be affected by gender stereotypes, social conditioning and micro- aggressions. These factors probably derailed her development in subjects that turned out to be academic strengths.
"There were so many moments that led me away from loving math as a kid," she says.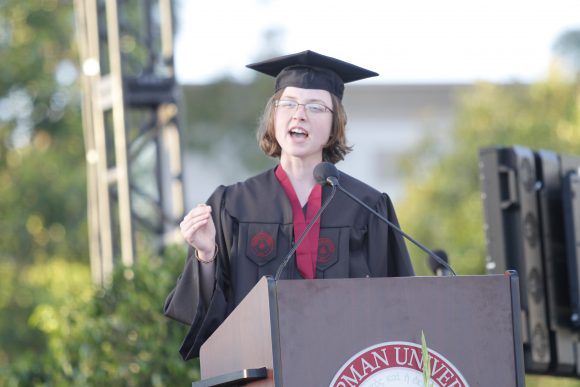 Perhaps that early absence of academic direction is why Patti appreciates so deeply the support she found at Chapman. Now she advocates for opportunity beyond all barriers.
"It is the responsibility of all of us graduates to work tirelessly to promote the rights and equality of all people in all circumstances," she said in her Commencement speech.
"The Chapman community saw things in me and encouraged me," she added. "They taught me about the natural world, and in so doing they freed me to be the scientist I am rather than the quiet little girl I might have been."
Buoyed by the "unshakable faith and infinite patience" she received from Chapman mentors, Patti has never hesitated to pay their support forward. She helped lead Chapman's Women in Science and Technology student organization, and she continues to spearhead STEM outreach to underprivileged youth, holding workshops and speaking to women and girls about growing opportunities in STEM fields.
Among the beneficiaries is Amy Lam '19, a double major in physics and math at Chapman.
"I'm quite shy, and as a transfer student I really appreciated it when Taylor reached out to me," Lam says. "Having Taylor rooting for me, showing me around, laying out steps to getting involved in research, it all has helped so much." Patti coaxed Lam to stride beyond where she might have gone on her own.
Patti coaxed Lam to stride beyond where she might have gone on her own.
"She told me just to stew in how uncomfortable it was in the beginning," Lam says. "I think part of physics and science is to understand what we don't know already – to get familiar with the unfamiliar, to ask the questions that need asking. It wouldn't  happen if people didn't have ambition or the right coaching to push beyond what's comfortable." Patti's influence is empowering for everyone, Lam says.
"She taught me how to be accountable for myself, but also how to insist that others be accountable for their actions," Lam adds. "It's about creating an example that emulates how respect should be propagated among all human beings."
Jeff Tollaksen, Ph.D.,  isn't sure how, over the years, the general culture of physics skewed so heavily male. But the director of the Institute for Quantum Studies has a pretty good idea how that culture will change, because he's seeing it happen at Chapman.
In a discipline that once regularly featured classes of nothing but men, Chapman's sophomore class of physics majors is all women.
"Taylor has influenced that," Tollaksen says. "As I talk with prospective students, I often ask Taylor to talk with them as well. She's an incredible role model. She can hold herself out as a beacon."
When Patti started at Chapman, "beacon" is one of the last words she would have used to describe herself. Her experience has taken her beyond all of her expectations, and as she looks ahead she also leaves behind some advice for incoming freshmen who might be where she was four years ago.
"There is no subject that you are not capable of pursuing. There is no person whose talent or intellect you can never match," she says. "Push yourself, and the difficult becomes easy; the gaps you perceive will close. Be encouraging to those around you – that includes yourself."
About the Artists and Their Designs
Opening a window to process, we asked our alumna artists to tell us about the pages they created for this issue of Chapman Now and how the experience compares with their other design work. Here is Diana Goldberg '14 and her insight on designing "Geniuses Don't Look Like Me."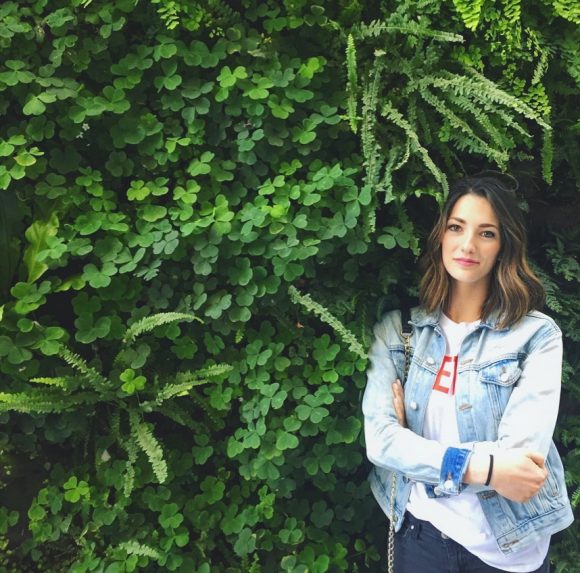 Before she decided to attend Chapman, Goldberg researched a number of college options. She did the same before she started working as a visual designer for Enlisted Design in Oakland a year ago. So it's no surprise that when she took on the task of designing our profile of physics student Taylor Lee Patti '17, she wanted to learn all she could about the Cheverton Award winner.
She easily related to how Patti overcame self-doubt, because there was a time when her own course was unclear, Goldberg says. "It meant a lot when a teacher told me, 'You have more potential than you think you do.'"
Goldberg chose to include a handcrafted graphic element "to personalize it," she says of her design. Her illustration of Patti is joined by an overlay of physics equations and two breakout quotes, which together communicate a message that "hit me pretty hard," she adds.
Like the subject of her storytelling, Goldberg is delighted to have found her professional calling, doing work she finds rewarding. And though she has never met Patti, it's clear that the designer now feels like their paths intertwine.
"It's been an interesting journey," she says, "and it's really just beginning."
Goldberg's full design for "Geniuses Don't Look Like Me" can be viewed below, online or on pages 6-9 in the summer 2017 print issue of Chapman Now.
About the Chapman Now Cover Photo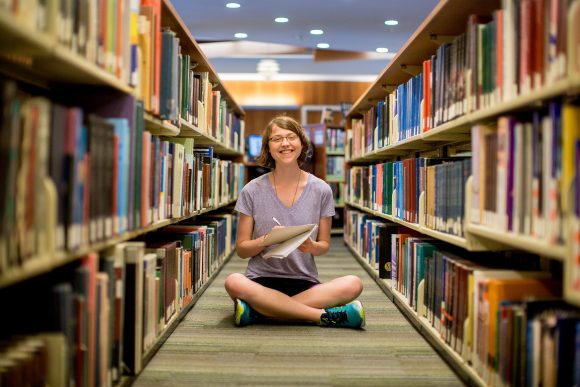 When he isn't shooting photos for Chapman Magazine, Nathan Worden '13 (M.A. leadership development '15, MBA '18)  is assisting students as resident director for Glass Hall. So when we asked him to capture images of Cheverton Award winner Taylor Lee Patti '17, including our cover shot, we didn't have to fill him in on Patti's journey. "I met Taylor during Orientation Week her first year at Chapman," Worden says. "I remember how intelligent her questions were. Over the years, I watched her grow, and I became impressed with her resilience. At the Campus Leadership Awards, I got choked up when she won the Cheverton and I saw her mom tear up. She was so proud. I think that pride is felt throughout the Chapman community when we succeed and achieve together."