Chloe Sandoval started out just curious about a career in pediatric physical therapy. But by the end of a 10-week course this summer working with children diagnosed with cerebral palsy, the Chapman University graduate student was smitten with the career path.
Over the summer, Sandoval helped one child regain her ability to rise from sitting to standing. One little boy finally made eye contact with her on the last day of class. Another improved his ability to sit upright.
"It's been a really great experience," said Sandoval, a second-year student in the Doctor of Physical Therapy (DPT) program in Chapman's Crean College of Health and Behavioral Sciences. "It's really rewarding."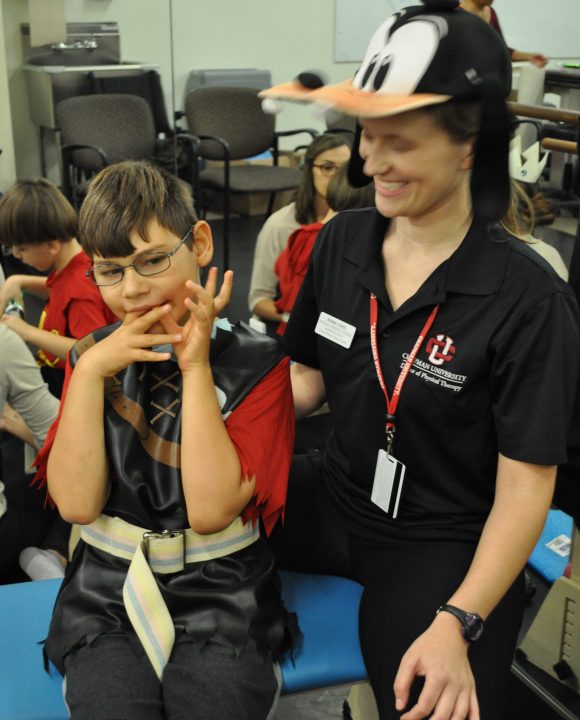 And to make it even better, the 10 weeks played out in the format of a modified beginning ballet class, complete with live music, tutus and a real barre to help support the dancers.
The spark behind all this hands-on learning and therapy dressed up as play was a $10,000 grant from Crean College that supports faculty-led interdisciplinary efforts. Together, faculty from the Physical Therapy Program and the Marriage and Family Therapy (MFT) program created the course and curriculum.
While the youngsters attended the ballet class at the Rinker Health Science Campus led by PT students, faculty and specially trained ballet instructors from the community, parents gathered in a nearby room for a support group led by MFT students and faculty.
The researchers aim to answer several questions through the endeavor, says Marybeth Grant-Beuttler, associate professor of physical therapy and a certified pediatric clinical specialist. Most important was whether the youngsters made progress in the class and that analysis is underway now that the first session has concluded.
They're also evaluating the benefit of the parent support group and the graduate students' response to the clinical experience. This is Crean's first major foray into offering its DPT students a pediatric work experience, so faculty are eager to make certain it meets students' needs, Grant-Beuttler says.
And it's not just because there are plenty of good jobs in pediatrics, she says. The experience of working with children is unique, and giving students an early exposure to the field is helpful, she says.
Chiefly, it takes a special brand of patience to work with children. Adult patients may be able to see how weeks of therapy and work will benefit them down the road and thus is worth pursuing. But kids? Not so much, she says.
"What the kids require is totally different from what an older adult would require. We're playing the whole time. Everything we do has to be a game and has to be fun," she says.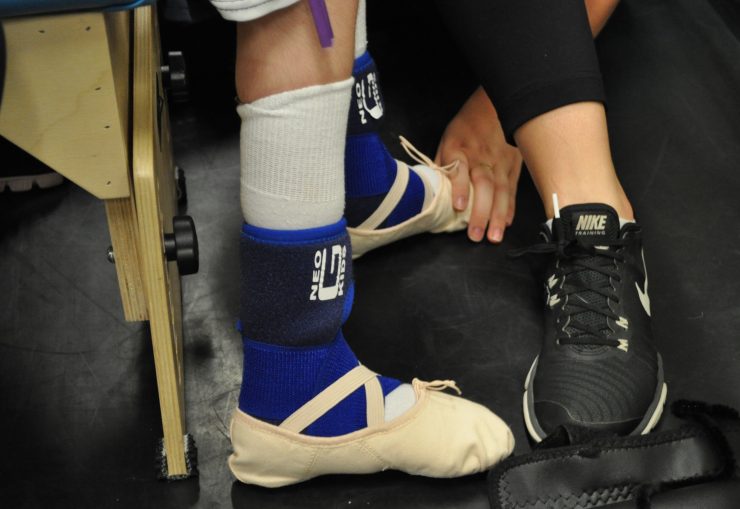 Thus, the ballet class. Dance concepts frame each task in the therapy sessions. For example, a mundane leg lift becomes a dégagé. An arm-lifting stretch turns into the drama of "growing like a tree." And when the children are adorned with crowns and challenged to hold a dance-like pose, they are so delighted that they don't realize their efforts to keep the crowns aloft is actually a posture and strength exercise.
"This program is so effective," says Carissa Cadogan, a second-year DPT student. "And the fun aspect of it gets them to do more work than they normally would."
Some of the dance activities were fashioned from a similar pilot project run in collaboration with UC Irvine last summer. From that, faculty members were convinced that students relished the modified dance lessons, but that families couldn't keep up the intense schedule of three weekly sessions.
As offered now, the Chapman program meets weekly. Another session will be begin in September. Grant-Beuttler hopes that eventually it can become a regular program, offering students hands-on experience in a faculty-supervised setting, similar to Crean's Stroke Boot Camp.
The benefits would extend well beyond Chapman students, too, she says.
"We want to provide this opportunity for kids in a fun setting," she says. "We want to serve the kids who are underserved, and one of the biggest underserved populations is kids with motor disabilities. There's hardly anything else out there for them."
Display image at top/Chapman DPT students and excited youngsters get ready to dance with lighted wands and light sabers.