2017 is a year of milestones for the Funk household.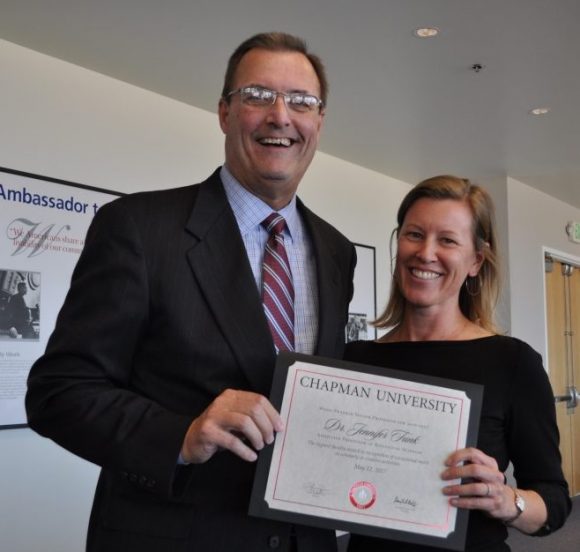 For Jennifer Funk, Ph.D., associate professor of biological sciences, it means that she has been teaching at Chapman University for a decade. Joining Chapman faculty in 2007, her 10-year anniversary ended on a high note as she was recently awarded the Senior Wang-Fradkin Professorship, the highest recognition for research that the University bestows on a faculty member.
"Chapman has been increasing our rigor in scholarly activity since I've arrived here. So to be singled out as the recipient of this award is a huge honor, given how productive our faculty is," she said.
Funk is a plant ecologist whose research focuses on invasive plant species and how plants respond to climate change. As Chapman's newest Wang-Fradkin professor, she will be awarded $10,000 over two years to further her research. The funds will go toward applying genomic data to better understand how plants are going to respond to drought.
Although this marks Funk's 10 years at Chapman, her campus connection reaches back much further. Both of her parents are Chapman alumni and they are celebrating their 50th graduation and wedding anniversary this year. Her father, George Funk '68, was a business major and her mother, Karen (Philips) Funk '67, studied home economics. The two met their freshman year over a dissecting table in their General Biology class.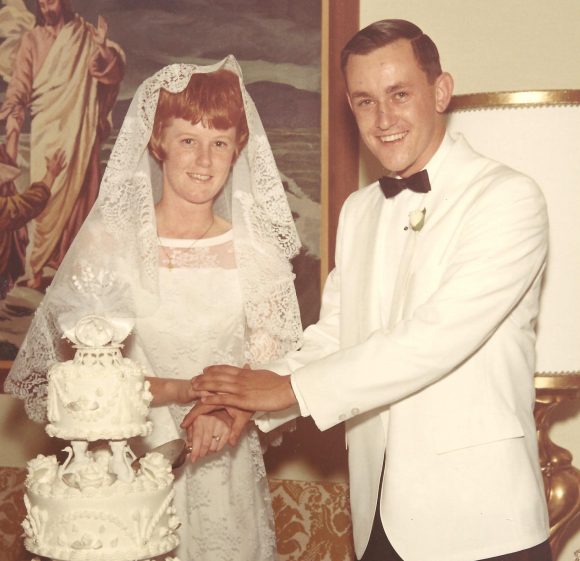 "General Biology was one of the first classes that I taught when I came to Chapman," said Jennifer Funk. "It was so cool to be teaching the course that brought my parents together."
After dating throughout college, Karen Funk graduated on June 11, 1967 and the couple wed the day after in Long Beach. George Funk graduated a semester later.
It goes without saying that the apple does not fall far from the tree in the case of the Jennifer Funk and her parents.
"Having Jennifer teach at Chapman is kind of like the Twilight Zone—a strange thing that you don't expect to happen," said Karen Funk. "We are glad that she is a part of our past."
Display photo at top/Karen (Philips) Funk '67 and her husband, George Funk '68, Chapman alumni who met and fell in love through a General Biology course, a class that their daughter, Jennifer, is teaching today as a Chapman professor.