U.S. Marine Corps veteran Kat White is trying to explain how her dog's presence eases her service-related post-traumatic stress. Then she pauses to search for the right words and her eyes well with tears. Words don't matter for the moment, though.
Quietly but quickly, her dog Elroy pads across the room and sits at her side in the office where White works as a depot coordinator in Chapman University's facilities and maintenance warehouse. She takes a deep breath, smiles and hugs the King Shepherd mix she adopted from a rescue group.
"They get it, you know? They don't have to say anything; they don't ask questions. This guy, if I get upset he'll come right over," says White, a 13-year Marine Corps veteran who served in the Gulf War. "They change your thinking and get you to live here and now, whereas most of us have a tendency to think about the past. They make us live in the present."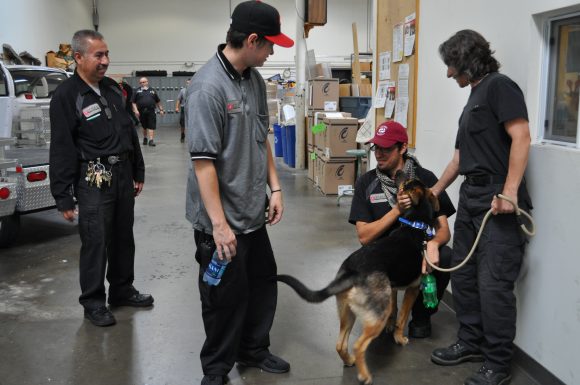 On Memorial Day, the past will still be heavy on White's mind. She was a staff sergeant in the 4th Light Armored Reconnaissance Battalion during the Gulf War and lost fellow Marines and friends there. She still copes with other service-related injuries, but now is marshaling her energy into training Elroy to become a certified therapy dog trained to visit veterans with post-traumatic stress disorder and anyone else who needs a canine pal to brighten their day.
"I think that's what it is for most vets. Dogs bring you out of it," White says.
She speaks from experience. Elroy will be White's second therapy dog and she plans to return to making regular visits with veterans, as well as with hospital patients and senior home residents.
Visiting campus is part of his training. At seven months, Elroy is a well-behaved fixture in White's office, where he is unruffled by the comings and goings of warehouse life — a good indicator that he'll make an excellent therapy dog, White says. Meanwhile, workers from the campus' West Palm Avenue offices often stop by for brief Elroy visits.
"He's a cuddle butt," White says.
Memorial Day lands near White's birthday, so she says the holiday is always colored with a mix of gratitude to be alive and deep reflection for service members who didn't return. But Elroy and "a small zoo" that includes birds, a roommate's dog and two other dogs of her own will be ready and able to lend a nuzzle. No words necessary.