Positive social change happens in many ways at Chapman University. Whether it's through one's academic efforts or through co-curricular activities or even through allyship and having everyday conversations about diverse ideas and perspectives, there are change-makers on campus that strive to make Chapman a more just and inclusive space for people of all identities.
Often, their actions are behind-the-scenes and go unnoticed, but on Thursday, May 11, Chapman staff, students, faculty and organizations were honored for their achievements in social justice at the Cross-Cultural Awards. Previously known as the Diversity and Equity Awards, this is the first year that the annual event took place in its new permanent home — the Cross-Cultural Center. Located in the third floor of Argyros Forum, the Cross-Cultural Center opened its doors in February with a mission to help create a more inclusive campus climate at Chapman.
With a total of 80 nominations for 17 award categories, Thursday's ceremony recognized Chapman community members that strive to bring that mission of inclusion to life through areas like global citizenship, sustainability, interfaith education, LGBTQI+ inclusion and racial and gender justice. Winners received a certificate and a pin that reads, "You Make a Difference." The evening was also a time to celebrate the center and its representation of diversity and equity on campus.
The enthusiasm was even evident on a poster where attendees were invited to answer the question, "What does the Cross-Cultural Center mean to you?" One student anonymously wrote, "A place that feels like my space, where you don't feel like the outlier, other or like an intruder."
This response conveys the welcoming energy that the Cross-Cultural Center aims to provide for the community, and this feeling of inclusion was prevalent throughout the awards ceremony. From hugs to supportive cheers to passionate speeches, attendees of the event can ultimately agree that the center is a place where all identities can belong.
"It was a bit emotional to host the awards," said Leti Romo, assistant director of Student Engagement. "So much hard work, sweat and tears were shed in creating this space and it is such an amazing feeling to not only see this event happening but even in the day-to-day use of the space. I see [the night] as a tangible example of what committed individuals can achieve."
Award Winners:
Collaboration of the Year: Asian Pacific Student Association (APSA) for the Asian Pacific Islander (API) Celebration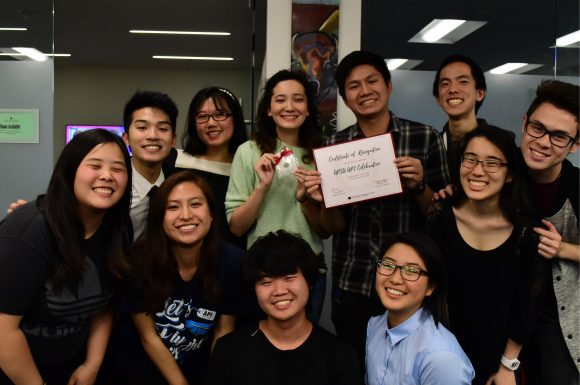 Outstanding Adviser of the Year: Luis Ortiz-Franco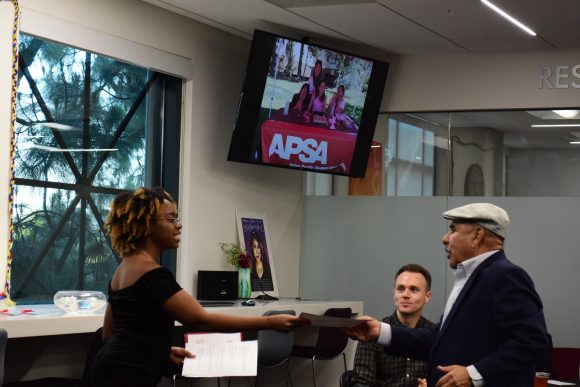 Staff Advocates of the Year: Jillian Strong & Oscar Teran
Faculty Advocate of the Year: Miguel Zavala
The Global Citizenship Award: Alejandra Cortes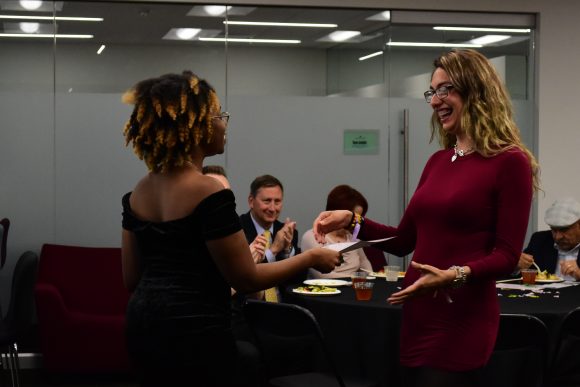 Commitment to Environmental Sustainability: Aliyah Thomas
Ally Award: Safi Nazzal
Building Bridges Award: Farrah Su
Interfaith Award: Hakeem Wakil
Pride Award: Rebecca Rost
KC Haggard Award: Landyn Pan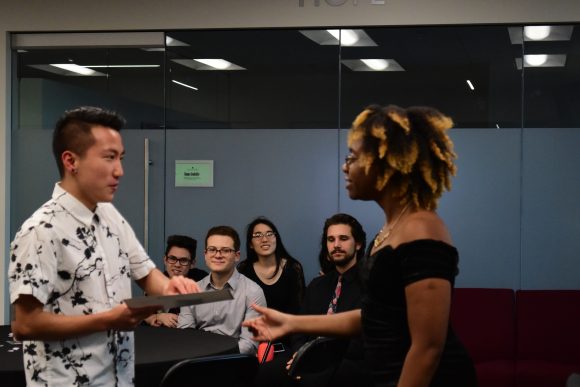 Phenomenal Woman of the Year: Van Chung
Racial Justice Award: Amanda Ball
The Courage Award: Arianna Ngnomire
Emerging Leadership Award: Kyler Asato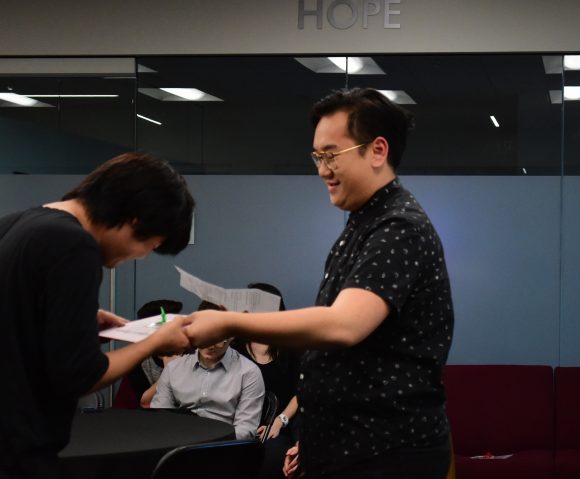 Commitment to Diversity, Equity and Inclusion: Leon Dominguez-Lukic
Cross-Cultural Leadership of the Year: Annabell Liao
Display image at top/ From left, Rose Mackenzie '17, lead Cross-Cultural program assistant, hugs Annabell Liao '17, winner of the Cross-Cultural Leadership of the Year Award, with Student Government Association President Mitchell Rosenberg '19 expressing his congratulations in the background.