"What is the future of geothermal energy and how will it impact you?" This was the question that more than a hundred student teams across the United States attempted to answer for the Geothermal Design Challenge, sponsored by the U.S. Department of Energy, Idaho National Laboratory and the Center for Advanced Energy Studies. But the tricky part is that the answer must be shown through the creation of an original infographic.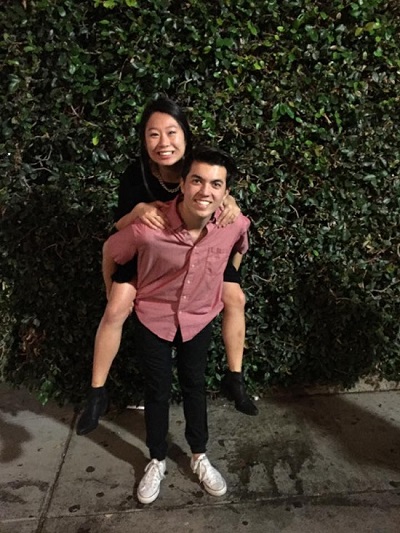 Two Chapman University students were able to effectively communicate the benefits of geothermal energy, a type of energy that is extracted from beneath the Earth's surface, through their creative and informative illustration. Lotus Thai '17 and Kyvan Elep '17, both environmental science and policy majors, were recognized as finalists in the challenge.
"It was rewarding to hear that the judges really appreciated our design," said Thai. "They told us that if there was a second place winner for the university bracket, we would have received it."
Thai and Elep have known each other since their freshman year, growing close in their friendship through classes and their involvement in the University Program Board (UPB).  After hearing about the Geothermal Design Challenge from the Schmid College weekly email, the two decided to partner up and enter under the team name, "Orange Magma." Developing the infographic from scratch on Adobe Photoshop, Thai and Elep aimed to provide a way for non-science oriented people to be better educated on geothermal energy. As science majors, they both had a technical background on this topic, but the challenge was in translating the complex, scientific language in a palatable way for their general audience.
"We wanted people to understand what we were saying and not make it feel like they were reading from a textbook," Thai explained. "This competition taught us how to be better virtual communicators."
Their final design, "Geothermal Technology: The Power of the Core," tells a compelling story about the future of geothermal energy. Out of the 109 teams that submitted entries, Thai's and Elep's infographic was chosen by a committee of engineers, energy experts and creative professionals to be one of the top eleven designs.
Both students graduate in May. Thai is looking into a career in either corporate sustainability or education and Elep has a paid summer internship at Devils Postpile National Monument as a resource management technician and education outreach specialist.
Still not sure what geothermal energy is? Check out Orange Magma's infographic below and at the Center for Advanced Energy Studies website.