Spend more than two minutes with Chapman University Presidential Fellow Ruebén Martinez and you will understand the truth of the following quote.
"I work 10 days a week. But I like what I do," Martinez says with his characteristic wide smile and good humor.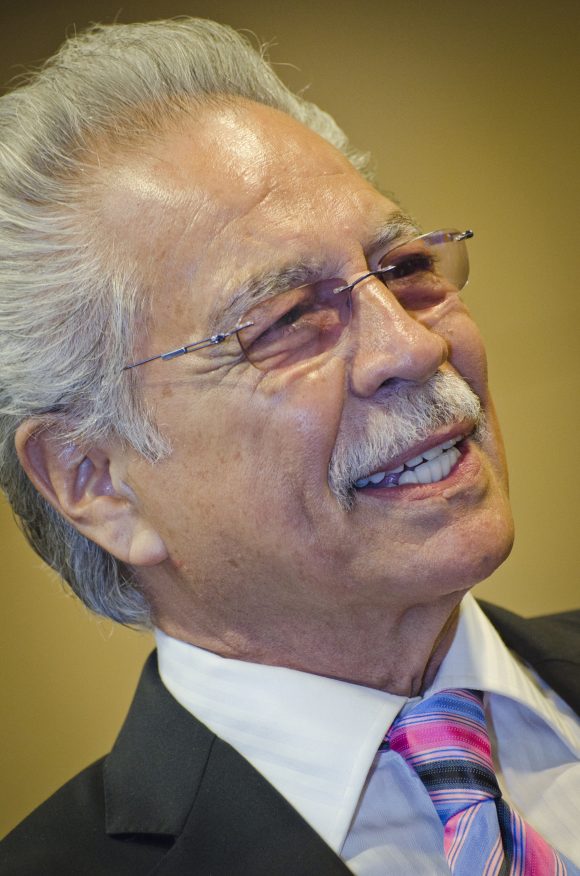 That trademark energy helped him turn his Santa Ana barbershop into a beloved bookstore, where he championed reading, hosted the world's top Spanish-language writers and caught the attention of the MacArthur Foundation, which in 2004 awarded Martinez a prestigious MacArthur Fellowship. Now he has been named winner of the Innovator's Award, to be presented by the Los Angeles Times Festival of Books on April 21.
"We are thrilled to recognize Ruebén Martinez with the Innovator's Award for his contribution to the literary life of Southern California," says Carolyn Kellogg, Times book editor. "By sharing books in his barbershop in Santa Ana he showed how books can be celebrated anywhere, and how essential they are to all our lives."
Today the bookstore's legacy lives on at Centro Comunitario de Educación, a community learning center operated by the College of Educational Studies. And Martinez serves as a Chapman ambassador, encouraging youths and teens from underrepresented groups to pursue college. We caught up with him during a rare break between high school visits and campus tours to learn more about his passion for reading and encouraging literacy
Q. What did you read when you were a kid?
A. My neighbor's newspaper. I used to sneak over in the morning and read it and put it back again. In those days the newspaper boys would fold the newspapers really tightly. They were solid. It would hit the house – wham! – and that's when I would wake up. In the fifth grade I had Mrs. Brubaker … On Fridays, she'd say, 'Take this book home and read it but I want it back on Monday.' So I did. Chapter books, and Edgar Allen Poe. She's the one who really taught me how to read and understand and how to comprehend books.
Q. Before the bookstore, you famously gave away books at the barbershop. Where did you get them?
A. I used to go all the way to Tijuana to buy them at a bookstore there. And the owner was the only one there. And it was just books, books, books. And one day he says, 'You know, Mr. Martinez, you've bought this book about 25 times.' And I told him what I was doing. Then he told me this expression – You're a fool for loaning a book and you're a bigger fool if you return it. I love that!"
Q. What are you reading now?
Q. The Road to Character by David Brooks, La espía, in Spanish, by Paulo Coelho. And Joan Didion's South and West.
Why is it so important to you to keep up this work?
A. Life is an opportunity and so I'm embracing it. That's what I tell people. You go through life once so make a difference. These kids at the University I see, I say never mind success, go for greatness. Continue to make a difference.
Display photo at top courtesy of John D. & Catherine T. MacArthur Foundation