Today's audiences are hungry for documentary films. And now Chapman University is home to state-of-the-art studios where the next generation of nonfiction filmmakers can learn the art  and business of telling those stories.
In January, Chapman's Dodge College of Film and Media Arts opened The Dhont Documentary Film Center, housed in the new Chapman Studios West. Located a short walk from Marion Knott Studios, the new facility provides room for students working in all aspects of film and media arts, but especially those focused on documentary storytelling – a trending genre sought by lots of streaming and online platforms, from Netflix to ESPN.
"I've been working in this industry for 30 years, and documentary filmmaking has usually been in the background somewhere. Now we have half a building, and it's amazing," said Chuck Workman, professor at Dodge College and an Academy Award-winning documentarian.
Chapman Studios West houses a variety of production, technical support and set construction services for production design and cinematography programs. Among other features, the new 38,000-square-foot studio space includes:
Storage space with more than 18,000 props.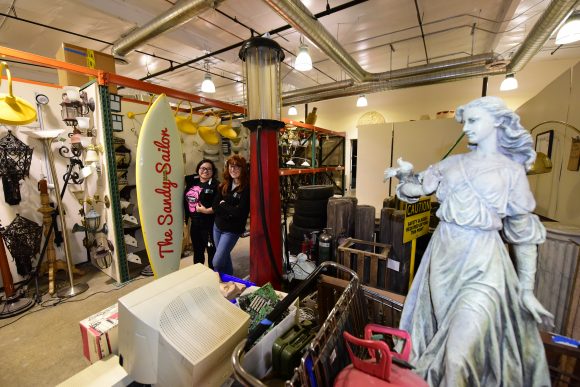 Two editing suites and a mixing/color-correction finishing suite.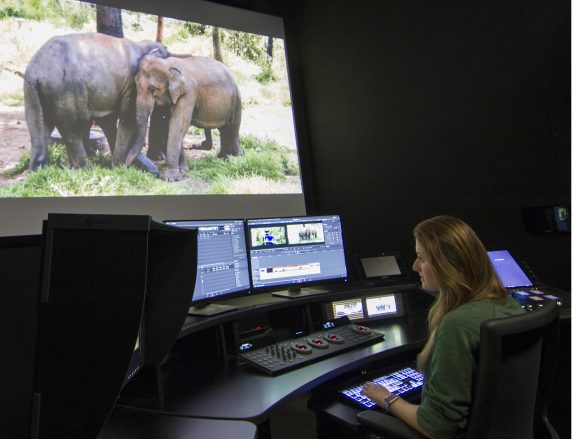 A 6,000-square-foot scene shop with cutting-edge technology.
A 7,000-square-foot sound stage and 2,000-square-foot cinematography stage.
In January, a ribbon-cutting was attended by Andre Dhont and Bob Topp, both from the Dhont Family Foundation, as well as Doug Kimmelman, whose contributions also were instrumental in the development of Chapman Studios West. During remarks at the event, Dodge College Dean Bob Bassett and Chapman President Daniele Struppa underscored that providing creative hubs with both collaborative space and technological resources are a Chapman hallmark.
"Buildings like this happen when friends share resources," Bassett said. "We positioned ourselves as the film school of the future, constantly changing and anticipating the business and what comes next. I've learned that if you want a building, you have to go build it yourself. And we did – and continue to."
When students are allowed to interact with and play off one another, the results are far more impressive than when they are forced down one track, Bassett said.
"Collaboration builds creativity," he added.
That collaboration includes the faculty as well, which makes the recent hiring of Workman all the more meaningful. Students will benefit from his experience, which includes work on projects such as Magician: The Astonishing Life and Work of Orson Welles, the 82nd Annual Academy Awards and Precious Images, winner of the Academy Award for Best Live Action Short.
Workman understands what Chapman Studios West will mean for Chapman students.
"Dodge is at the forefront of what's happening in the education of filmmakers, and this is just one more manifestation of that leadership," he said.