Unplugging. Disconnecting. Taking a Facebook vacation.
In a highly politicized era of rapid-fire news developments and intense social media interactions, some people feel the need to walk away for their own well-being.
Sophie Janicke, Ph.D., an assistant professor in the School of Communication, is offering alternatives to cutting the cord completely.
"For one thing, I don't think we can think about the online life as being different from our offline life. This is all one," she said. "We haven't really learned the rules that apply to online. Just as with anything, we need to find a balance."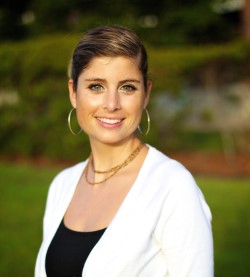 With her RealBreak Facebook group, Janicke promotes breaks as brief as a device-free meal, a mindful breathing minute or a mid-day yoga class like the one she teaches for faculty and staff at 11 a.m. Thursdays in the Fish Interfaith Center.
Janicke also writes about ways to merge technology and a balanced life on her blog Rewire Happiness, and is a co-founder of the Ecology of Technology, a movement meant to provoke a shift of consciousness about how we use technology so it enhances our lives rather than enslaves us.
"With social media, it's definitely a slippery slope," said Janicke, who teaches a course on Social Media and Contemporary Society. "What we really have to do on social media when we interact or post is reset and remember our values and see what we want to put forth online. Most of us wouldn't stand in someone's face and say, 'I hate you.' Apply the same standard to social media."
Twitter and Facebook are often demonized, particularly for the wildfire spread of fake news, but they can be sources of positive communication too.
"Facebook is a great tool — not so much for the early millennials but more for the 25-40 generation — to use Facebook groups related to a specific topic or specific purpose," Janicke said. "Obviously we saw the Women's March, and social media played a huge part in that."
The point is that technology isn't bad, but we own our phones — they shouldn't own us.
"Even with books, you don't want to read 10 hours a day and not go outside," Janicke said. "You need to put the book down, go out, get some oxygen, see friends and run around."
Of course, it isn't lost on many that the place to go for all this insight about not being overwhelmed by technology is online. And Janicke frequently uses her phone to take pictures of her (mostly) device-free meals or film a mindful breathing exercise.
"I get the comment a lot, 'Are you taking a real break?'" she said with a laugh.