How Did You Get That Job?

From fast-food tastemakers to innovative church pastors, superhero comic book writers to film industry animators, some jobs are so cool that we just have to ask Chapman alumni "How did you get that job?" At
chapman.edu/podcasts.
Science on Tap

Grab a cold one and hear Chapman University faculty explore the intersection of science and culture. And yes, this series is recorded in a brew pub. At
chapman.edu/podcasts
.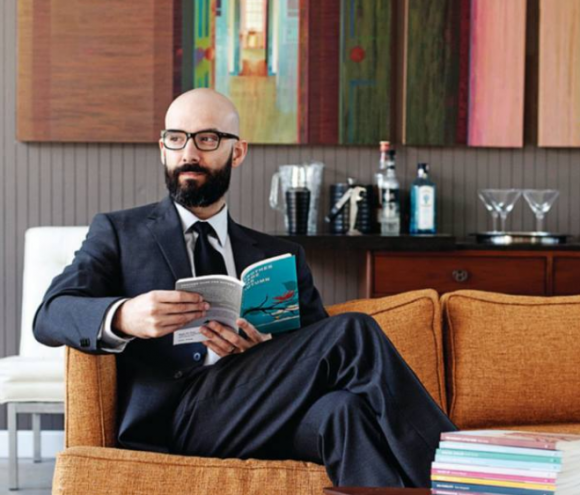 (
The How The Why
Produced by Kevin Staniec '01 and 1888 Center, the publishing house he created,
The How The Why
is a half-hour podcast exploring the creative process of noted authors. This weekly series is hosted by Jon-Barrett Ingels (Class of '00), who leads an ongoing look at the evolution of the literary arts. At
1888.center/thtw.
Nutflex
Is your Netflix cue clogged? Winnow it down to the best selections with help from graduate student, stand-up comedian and veteran podcaster
Mike Gravagno
(MFA '17) as he and fellow pop- culture pals review and rate the options. You'll find it on
iTunes
.
IMA Leader Podcast
Sinan Kana '97 (M.A. '00) is a regular host on this series from the International Marketing Association. Featured are thought leaders sharing insights into the art and science of modern marketing. On
iTunes
and
Stitcher
.
We're Alive: Lockdown
Season two of the post-apocalyptic zombie drama created by KC Wayland '08 shows that the concept has legs – some of which may or may not detach. Those zombies are nasty devils, but don't miss how Wayland's characters battle back. At
werealive.com/listen
.
My First Feature
Ethan Cushing (MFA/Film Production '08) interviews new directors about their experiences making their first feature film. On
iTunes
.
InvestTalk
Explore a common-sense approach to investing with Justin Klein '05, executive vice president at KPP Financial, who co-hosts this podcast. On
iTunes
and podbay.fm.
Featured image at top: KC Wayland '08