If a racial slur is scrawled onto the dusty windshield of a student's car, do you just chalk it up to pranksters? Do you shrug off locker room banter as a cultural norm if the language belittles people based on their gender identity or sexual orientation?

Compared with the hate-motivated violence seen across the nation recently, such hypothetical scenarios may seem like episodes of vulgarity rather than cause for intervention. But a new program launched at Chapman University this summer seeks to educate the campus community about all bias and hate behaviors – especially the so-called minor stuff.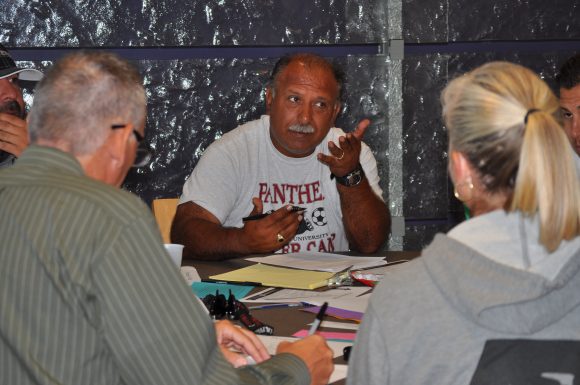 The program is called Stop the Hate, an initiative of the national nonprofit organization Campus Pride. It equips campuses with anti-hate educational resources and tools to help them prevent hate crime and bias incidents. A team of Chapman staff people became certified Stop the Hate trainers through a three-day series of seminars and now in turn is offering workshops on campus.

The attention Stop the Hates pays to lesser instances was of particular appeal to the Rev. Nancy Brink, director of church relations, who along with Kristen Entringer, a program coordinator in the Office of the Dean of Students, and
Cross-Cultural Initiatives
, brought the program to Chapman. Incidents like the dusty-windshield scrawl and the locker room banter? Yes, they matter.

"There's strong research indicating that on a campus or in any kind of group, if you work with the little stuff early, you have a much better chance that it's not going to escalate," Brink said.

Chapman invested in the training largely as a proactive step and to further the historic values of respect and inclusion that are already part of Chapman's culture, Brink and Entringer said. But no campus is immune from occasional incidents, and it's wise to be prepared, Brink said.

"We don't want to wait for something to happen and feel like we're figuring it out as we go," she said. "If something happens, we're far more equipped and ready than most schools."

Thanks to support from an anonymous donor affiliated with Disciples of Christ, the University was able to train 18 staff people and one student. Typically, universities host Stop the Hate training and use attendance fees from outside participants to pay for a handful of its own staff to attend.

One of the first programs to step up for a Stop the Hate workshop this summer was Athletics. Doug Aiken, associate director of Athletics, said the coaching staff found the discussions and workshop exercises "valuable and though-provoking." Moreover, as educators they appreciated the program's focus on teaching rather than punishment.

"The training also helps us to be better aware when our students say things or act inappropriately so we can stop it from becoming worse and turn those into teaching moments," Aiken said.

That's key, said Brink.

"We want to educate, rather than bring a hammer down on somebody," she said.
Interested in having a Stop the Hate training in your department? Workshops can be adapted to fit your needs and can be as brief as 30 minutes or up to two hours. To learn more, contact Kristen Entringer at entringe@chapman.edu or Leti Romo at lromo@chapman.edu.
Display image at top/Chapman staff members during their Stop the Hate training.