Chapman University's new Hilbert Museum of California Art, opened just this past February, is already garnering a significant amount of national attention, as attested by an eight-page feature article in the current issue (May-June 2016) of the prestigious magazine
American Art Review
, on newsstands now (the article is not online).  Gordon McClelland, an expert on California Scene painting who has specialized for the past 45 years on studying 20th-century California art, wrote the wide-ranging piece that takes readers on a fascinating tour through the Hilbert Museum's current exhibition, "Narrative Visions: 20th-Century California Art from the Mark and Janet Hilbert Collection."

McClelland points out that nearly all the top American "scene painting" artists knew each other or at least knew of each other.  The great Regionalist painters of the Midwest, Thomas Hart Benton and Grant Wood, made trips to California, and the best-known California Scene painters — Milford Zornes, Millard Sheets, Phil Dike and others — went back and forth to the East. About 15 top California watercolorists – including Emil Kosa Jr., Rex Brandt and Dong Kingman (works by all of these artists are in the Hilbert collection) were elected into full membership in the prestigious National Academy in New York City, McClelland says.  Benton and Wood encouraged artists from all regions of the United States to focus on their regions and create works that reflected everyday life in their towns, cities and countrysides – thus, in their mind, formulating a truly "American" statement of art.




Under the encouragement of Benton and Wood, regionalist art groups formed all over the U.S., "but none exceeded the California Scene Painting group in numbers of participating artists," McClelland notes, adding that in Southern California alone there were at least 750 artists producing this type of art between 1925 and 1965 (with far more if you add in narrative illustration, movie production art and other related types of art).  Most of these artists were drawn to California by the prospect of working for the burgeoning movie industry, with its demand for pre-production concept art, animation drawings and backgrounds, and scenic backdrops for movie sets. While the movie work was their bread-and-butter, the artists would stretch their creative wings in their off hours by taking paint, paper, canvas and brushes and depicting the life they saw around them in the cities and country.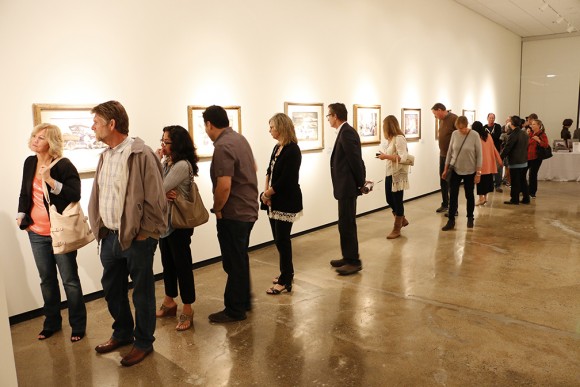 McClelland points out how California artists in particular developed their own "painting language" to capture these scenes of life in the Golden State as it grew and developed, changing from an agrarian landscape to one of cities, industry, freeways and tourism/leisure activities.  The artists depicted farms and ranches, roads and highways, train yards and stations, docks and ships, amusement parks and circuses, city streets, movie lots and sports activities — all of which were simply everyday scenes and activities at the time, but which now provide a vital historical link to our past.

Today, in just its fifth month of operation, the Hilbert Museum is drawing consistent crowds of between 50 to 100 visitors a day, many of them from out of town.  No doubt this will continue as the word spreads, in no small part through publication of feature stories and reviews in media like the
American Art Review
.

The Hilbert Museum of California Art, located at 167 N. Atchison in Orange (across from the Orange train station and Ruby's Diner) is open Tuesday-Saturday, 11 am to 5 pm (closed Sundays and Mondays).  Admission is always free. 
Check the Hilbert Museum website for more information.