On Thursday, April 7, Chapman University President Jim Doti delivered the inaugural "State of the Rinker" address at the Harry and Diane Rinker Health Science Campus in Irvine, giving a speech that recapped a robust past and outlined an exciting future for the Crean College of Health and Behavioral Sciences, and the recently launched School of Pharmacy.




Doti spent reviewed past "five-year strategic plans" of the University and what they've meant for the development of Chapman, from the acquisition of the Physical Therapy program from the Children's Hospital of Los Angeles, to the desire to move into the health sciences, to building out a campus in Irvine. The most current five-year plan, which was drafted and approved in 2011 and 2012, but didn't go into affect until 2013-2014, included the desire to move forward with establishing a handful of programs including athletic training and pharmacy, and a proposed Prosthetics-Orthotics.

"We knew where we were going, like a ship headed down towards a distant port. We might have been ruffled by the wind, but when you know where you're going, you can't back out on the direction you're headed," President Doti said to a packed room of students, faculty and staff from both colleges.

Doti's biggest touch point was how much the Rinker campus will grow in the coming years. The University has purchased much of the land surrounding the two current buildings, and with it will come more student parking, areas for students to study, and research space.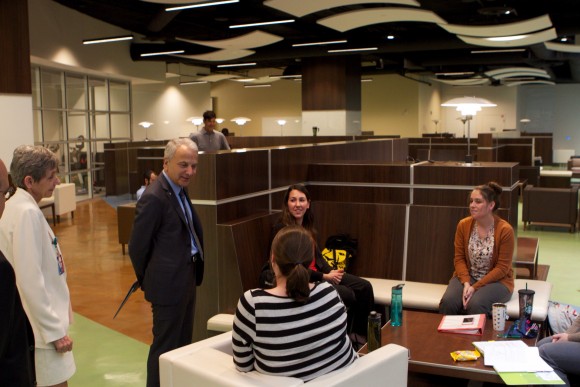 The current plan, set to conclude during the 2018-2019 school year, is one that Doti will not get to see completed under his presidency. He steps down from the presidency in September and Chancellor and Presidential Designate Daniele Struppa will be installed as president. "I'm leaving now because when you put together a five-year plan, the planning for the next five-year plan has to begin now."

Doti's visit, his first in almost a year, included a tour of the facilities lead by Janeen Hill, Ph.D., dean of Crean College, Keykavous Parang, Ph.D., associate dean of Research, Graduate Studies and Global Affairs for the School of Pharmacy, and Lawrence "LB" Brown, Ph.D., associate dean of Student Affairs, also from the School of Pharmacy. He met with students and faculty, and observed the daily workings of the campus.

Doti summed up his tour with words many others might also apply to the University's growth under his leadership and simply said: "Wow, I can't believe how far it's all come."