"For how many people is this their first AWP?" author-panelist Samantha Dunn asked.

Most of the people in the room, including me, raised their hands. I was sitting at my first panel, "In Case You Think You Don't Belong Here: Imposter Syndrome and AWP," at the first AWP conference I've ever been to.

"Give it up for those people who are here for the first time!" she said.

While I clapped along with the rest of the audience, I couldn't help but feel that same excitement for the conference experience that was to come.




Supported by
Chapman University
, also a major sponsor of the conference this year, I was able to attend the famed conference of the Association of Writers & Writers Programs — whose fans shorthand it to AWP. Joining me were many other students in Chapman's
MFA in Creative Writing
program.

The AWP was established as a nonprofit organization in 1967 by writers who represented creative writing programs. It aims to support the growing presence of literary writers in higher education and provide opportunities for young writers.

One way they accomplish this is through the annual AWP Conference & Bookfair, which features multiple panel presenters and book exhibitors and is in a different location each year. This year it was at the Los Angeles Convention Center March 30 through April 2. From its small beginning the conference has blossomed into a don't-miss occasion — more than 15,000 people attended this year.

Panel topics ranged from writing curriculum to adapting novels for the screen and were presented by many acclaimed authors, including Susan Orlean, Kelly Link and Joyce Carol Oates just to name a few. In addition, Claudia Rankine, renowned author of 
Citizen: An American Lyric,
 gave a powerful opening keynote speech, while Chapman associate professor and AWP board member Anna Leahy, Ph.D., welcomed writers to the conference.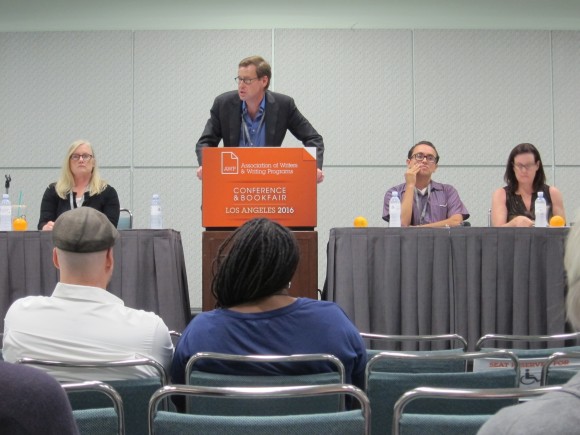 Chapman creative writing faculty also participated in the conference. Award-winning author and professor Richard Bausch presented in two panels, "Writers Who Change the World, with Richard Bausch, Percival Everett, and Judy Grahn, Sponsored by Red Hen Press" and "The Life You Save May Be Your Own: Mentors and Mentees" and professor Tom Zoellner moderated "The Use and Abuse of Memoir" and "Peering Behind the Orange Curtain."

In addition to attending panels, walking around the Bookfair was also an excellent way of meeting new writers and editors from a variety of magazine and literary journals across the nation and Canada. Along with the other universities promoting their MFA programs, Chapman also staffed its own booth at the Bookfair and hosted Bausch and guest poet Carolyn Forché in a book signing at the booth.

With so many writing panels and booths, I wondered how attendees could attend AWP year after year in different cities. In curiosity, I asked Leatherby Libraries science librarian Doug Dechow, Ph.D., (MFA '18) how long he had been going to AWP.

"Twelve years minus one year because I was sick," he said.

When I expressed my astonishment at his response, he chuckled and told me that he knew other people who had been going for much longer.

"You think that's a lot; Anna Leahy's been going for 20," Dechow said.

Clearly, I have a long way to go.

Featured image at top: From left to right, poet Carolyn Forché and Chapman professor Richard Bausch pose for their book signing at the Chapman booth. Photos by Michelle Yee (MFA '17)