First as a child and then as a teacher, Ann Rice developed the soul of a scientist. She lived to discover and to foster a similar spirit in her junior high students. But 15 years into her teaching career, her zeal hit a wall.
"I felt like just a deliverer of information," Rice says. "I wasn't making anyone love science."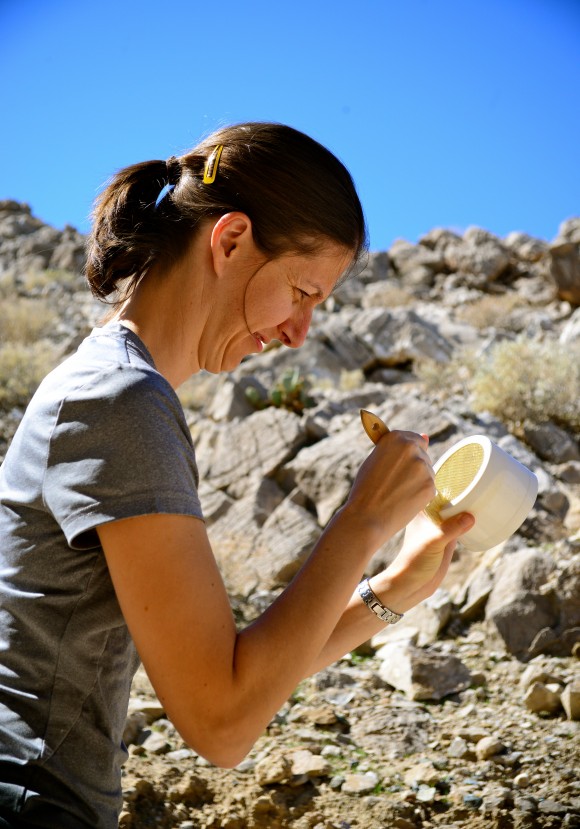 Lately, a Chapman University program has made Rice an investigator again and put her back in the lab. She's building and testing robots, sifting sediment for mine waste, even hiking the desert at night in search of fluorescent scorpions.
For the past two years, she's been recharging her scientific spirit. And she's not alone.
"It's great to be around people who love science the way I love science," says Rice, an eighth-grade teacher at Brookhurst Junior High School in Anaheim. "Now I remember what it's like to sit down in the lab and get my hands dirty."
Collaboration and teacher growth are two key goals of The Chapman Anaheim Science Partnership (CASP). Funded by a grant from the California Department of Education, the partnership aims to enrich science instruction by helping teachers learn from college professors how to bring more hands-on and project-based activities to their classrooms.
Such strategies support the new standards outlined in Common Core and enrich the teaching of science, technology, engineering and math (STEM), says Chapman Professor
Frank Frisch
, Ph.D., who is principal investigator on the collaborative program. Nothing could be more important, says Frisch, who teaches in the
Crean College of Health and Behavioral Sciences
at Chapman.

"For me it comes down to stewardship of civilization," he says. "We like to think of ourselves as a civilized and literate people, and the only way to do that is through our teachers."
Clay Elliott, the science curriculum specialist for Anaheim Union High School District, says the three-year program is a boon to his district's science teachers, who are nurturing their students' skills as future innovators.
"That's a very exciting motivation, to think that we as teachers can shape these kids to be one step ahead and ready for the next opportunities," Elliott said.
After guiding the junior high and high school teachers through a research project at the Desert Studies Center in Zzyzyx, Calif., Chapman Professor Christopher Kim was impressed with the participants' ability to reach their own conclusions with minimal instruction.
"We're in the data age, and their ability to manage and analyze insights from data will serve them and their students well," says Kim, Ph.D., associate professor of chemistry in the Schmid College of Science and Technology.
The Anaheim teachers are preparing to help their students thrive in a new era of project-based learning. In planning those projects, they're seeking to combine a level of control with a new freedom to explore.
"I really feel like the students are ready for that," Rice says. "It's the teachers who need to relearn and let go of that control."
In large part thanks to the Chapman partnership, Rice feels equipped to inspire a new generation of scientific investigators.
"I'm a realist, so for me to be optimistic is unusual," she says. "But I'm confident that we can go forth and explore."
Beyond ready, Rice is downright excited.
"My original love is reawakening," she says. "This is why I wanted to become a science teacher in the first place."
Top image: A robot rests among the rocks and palm trees at the Desert Studies Center in Zzyzyx, Calif.