At first, the college boys thought it was a once-only performance.
"I remember thinking to myself, 'I'm going to tell my grandchildren that I sang at Disneyland one time,'" says Jim Schamp '62.
But the call-backs kept coming, and eventually contracts were signed and the gig lasted years. That's right, Schamp and Perry Carter '65 were Dapper Dans, those wholesome gents who balance harmonies and bicycle skills while cruising Disneyland's Main Street U.S.A.
"It was just wonderful," Carter says.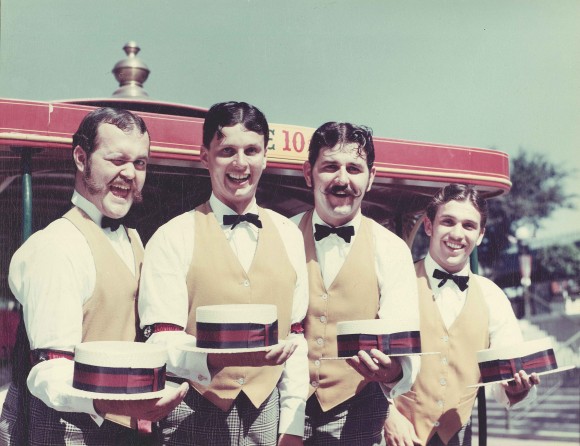 The careers of Schamp and Carter were always about sharing the joy of music. Schamp taught music in junior highs and high schools; Carter directed high school choral programs and taught voice for 22 years at Saddleback  Community College. But many of their most heartfelt tunes were belted out in their Chapman days, when they donned straw hats, hopped on a custom four-seater bicycle and rode through Disneyland, entertaining millions of guests with four-part a cappella harmonies.
The Dapper Dans are a Disneyland institution, planned into the entertainment lineup by Walt Disney himself. Singing sentimental classics like Sweet Adeline, the male quartet has been a mainstay of the Americana motif Disney envisioned for Main Street, created as an homage to his own childhood hometown.
Many male vocalists have filled the roles over the years. But Schamp and Carter, along with Dan Earl '61, Robert Maher '62, Ron Browne '63 and Gene Morford, who attended Chapman in the early 1960s, were among the earliest Dans, thanks to music instructor Sheldon Disrud, director of Chapman's Cardinal Quartet. Disrud directed the candlelight procession at Disneyland and recommended the Chapman students to the park's entertainment bookers.
The Dans' presence expanded — they routinely sang a couple of numbers with the big bands in Carnation Plaza Gardens and at Disney special events beyond the park. Looking back, Schamp and Carter say that singing along Main Street amid park guests was the best gig of their lives.
"It was personal," says Carter. "We could give someone an individual experience that they may have never had in their whole life."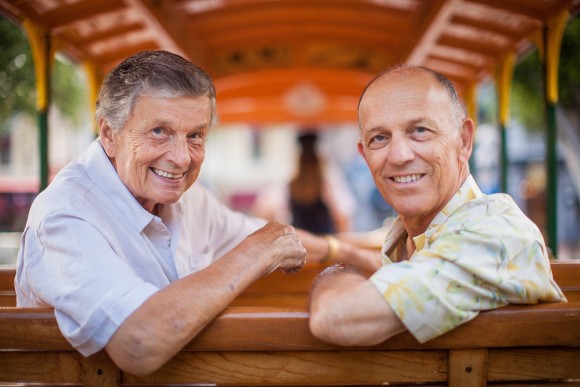 Top image: Perry Carter '65, left, and Jim Schamp '62, right, pose in front of Disneyland's City Hall. (Photo by Nathan Worden)