More than 1,450 freshmen and 400 transfer students arrive at Chapman University the week of August 24, 2015 to begin their journey as newly minted Panthers.  The numbers, according to the Office of Enrollment Management, are trending on par with last year's new-student count (an "official" census of new student numbers will not be available until about two weeks after classes begin).

The excitement begins with Freshman Move-In Day, Tuesday, August 25, when freshmen living on campus will descend upon the residence halls with their families, and cartloads of clothing, electronics, lamps, carpets and all the various accoutrements of dorm life will be shuffled into the halls.  Moms and Dads and siblings will assist with the move-in process — with tears or pride or maybe a certain amount of relief that their son or daughter, sis or brother is now safely
in situ
on campus.  New Panthers will meet their roommates and R.A.'s, and the great adventure will start.  (Transfer students move in on Thursday, August 27, along with upperclassmen.)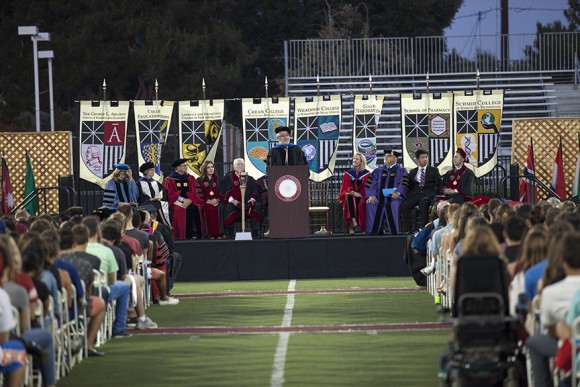 Opening Convocation
, set for 7 pm Tuesday, August 25 on Wilson Field, will formally welcome the new students and their families to the Chapman family, with a procession of faculty in full regalia, opening remarks from President Doti, Chancellor Struppa and Dean of Students Jerry Price, and the annual "Aims of Education" speech presented this year by Dr. Jennifer Funk, associate professor of biological sciences.

And then it's on to Orientation, with a full schedule for freshmen and their families — a whirlwind week of meetings, panel discussions, socials and talks, fun and meeting new friends, and getting acclimated to the campus and culture of Chapman University.  There are field trips, festive meals, a trip to Segerstrom Center for the Arts for an immersion in culture and a chance to be part of a drum circle, regional get-togethers to meet others who hail from the same areas of the country, get-involved opportunities showcasing the many clubs and organizations Chapman offers to all, an all-University casino party, a "beach party" at the Masson Beach Club and pool, and much, much more.  Check out the
full Orientation schedule
for first-year students to get an idea of what's on offer.

And then, once everyone is acclimated, it's on to the next new good thing: the academic year, books, personal computers and the transformative power of learning, as Chapman classes officially begin on Monday, August 31.

Welcome, new Panthers of the Class of 2019, to Chapman University's 154th academic year and as the newest members of the Chapman family!  You'll love it here — we can't wait to meet you.