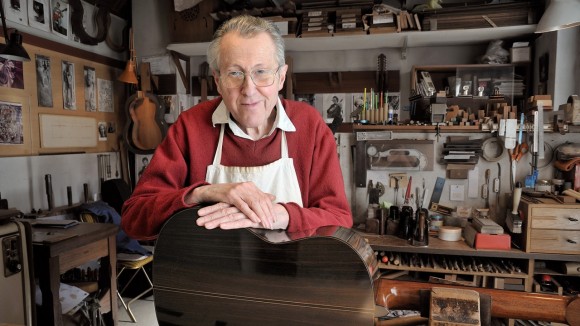 Jeff Cogan, associate professor of music and director of the guitar studies and music technology programs in Chapman University's Hall-Musco Conservatory of Music, has received an Award of Merit from the Accolade Global Film Competition for a documentary film he created about French guitar-maker Daniel Friederich.

The film,
Daniel Friederich — Luthier d'Art
, began as a faculty development leave project and received support from the chancellor's office, a faculty grant, and a travel award.  It was also showcased at the recent Los Angeles Cinema Festival of Hollywood.

Watch the trailer here


Daniel Friederich was born in 1932 in Paris, and built his first classical guitar at the age of 23 because he was learning to play the guitar and his teacher thought that he needed a better instrument.  "As I could not afford a good guitar, I decided to build one for myself," Friederich says. In 1960, he became a full-time luthier, or guitar-maker.  His creations are famous all over the world for their impeccable craftsmanship and their rich, sweet, explosive and vigorous sound.

Between 1960 and 1970, he built two main models: The 'Concert' model, with a serial number on the label, was the most expensive and advanced, with carved head and wood of the highest quality. The 'Récital' and 'Arpège' models, less expensive with no serial number on the label, used wood of lesser provenance.  Since 1970, he has made only 'Concert' guitars, with the serial number and year of making on the label.  It takes him more than 200 hours to build one guitar.

"When a guitar is finished, my ear quickly tells me if the result is successful," he says. "The guitar works as a complete harmonic unit and all its elements must be combined, like in a painting."