There's something stirring at Chapman University's School of Pharmacy (CUSP) not found at many of its counterpart universities around the country. It's the roll-up-your-sleeves brand of research aimed at discovering big and small ways to improve people's lives and advance the practice of medicine and pharmacy.
It's a vision that was built into CUSP, from the design of its laboratories to the style of teaching, says Ronald P. Jordan, R.Ph., FAPhA, founding dean. The goal is to prepare pharmacy professionals to play a more integral role in the day-to-day care of patients.
"Passion is what I think students respond to and learn from."


Ronald P. Jordan, dean of CUSP
"We're moving from the sage on the stage to the guide on the side," Jordan says. "That is different from many schools of pharmacy. Many schools are focused on current practice, but they (aren't developing) a real research platform."
As CUSP gears up for its first cohort of graduate students this fall, the school is attracting a roster of founding faculty to the Harry and Diane Rinker Health Science Campus. The faculty members bring translational research with them, offering ample opportunities to involve graduate and undergraduate student researchers. Pharmacy students will conduct a capstone research project to graduate. Already this year, nearly a dozen undergraduates have worked as research assistants with several pharmacy faculty members.
There's no better way to foster an enthusiasm for learning and discovery, Jordan says.
"People who are really passionate about making steps toward helping solve diabetes or cancer or Alzheimer's are very exciting people to talk to," he says. "That kind of passion is what I think students respond to and learn from."
Much of that work is already in motion.
GOLDEN POSSIBILITIES
Chicken tikka masala. Curried lentils. Lamb vindaloo. To Aftab Ahmed, Ph.D., an associate professor at CUSP, they are delicious dishes from his native Pakistan and neighboring India. Abundant in each is golden turmeric, the aromatic spice derived from the root of an evergreen plant of the ginger family.
"It's an important ingredient in our food. To me, in my cooking, if I don't see yellow or red color, I really don't enjoy it," Ahmed says with a smile.
But Ahmed's research into turmeric is focused well beyond the sunny color, which comes from the curcumin in the plant's root. He and research graduate student Soliel Doman (M.S. '16) are drilling deeper into its components to see if what makes turmeric a popular folk remedy might also have applications for the treatment of bacterial and fungal infections as well as cancer.
Specifically, they are studying proteins and peptides — molecules essential to cell function.
"Do peptides and proteins found in turmeric have an important role or not? Since there's been relatively little focus on
this, we want to check it out," he says.
The spice is a widely accepted folk remedy for minor complaints such as mild muscle aches, indigestion and coughs accompanied by the common cold. Turmeric's documented anti-inflammatory properties are increasingly being studied by cancer researchers, too, so further study into the workings of turmeric could have far-reaching impact, Aftab says. More immediate, though, could be a better understanding of its antibacterial and anti-fungal properties and uses, he says.
Meanwhile, enjoy that flavorful turmeric. (Ahmed suggests stirring in a teaspoon each of turmeric and red pepper into a pot of cooked lentils and sautéed onions.) But don't attempt self-treatment with large doses.
"In excess, everything is bad," Ahmed says.
THE INTERNET EPIDEMIC
As the first pharmacist to serve as president of the California Immunization Coalition, the creator of a lecture series on influenza and a leading expert on vaccines and travel medicine, Professor Jeffery Goad, PharmD, knows something about battling viruses.
But there's one stubborn bug out there that's proving particularly resistant and has healthcare professionals frustrated. Call it the Internet misinformation virus. Goad blames it for feeding mistaken notions that childhood vaccines cause autism and sparking the nation's related measles outbreak. When these falsehoods get a foothold and go, well, viral, it's hard to recover.
"The Internet can perpetuate myths faster than anything you've ever seen," says Goad, who chairs the Department of Pharmacy Practice at CUSP. "You don't get a second chance at a first impression."
Goad aims to break that pattern. As president of the nonprofit organization Shot by Shot, he led the development of a video series featuring the firsthand accounts of families devastated by vaccine-preventable diseases. With the National Adult Immunization Influenza Summit, he is researching best-practice strategies pharmacists can use to better educate the public about vaccines, which in most states pharmacists are authorized to administer.
Conversations with the "vaccine-hesitant" is one of the main battlefronts, he says.
"The vaccine-hesitant really just got wrong information. And when given the right information, they make the right decision," he says.
More interactions with pharmacists would advance a variety of routine preventive health care, Goad says. Toward that end, he is also working with the
Pharmacy Quality Alliance
looking at ways that pharmacies can use their computer systems to prompt discussions with customers about vaccines their insurance might recommend and cover. So someone coming into a community pharmacy for a renewal of hypertension medication could learn they're covered for the shingles vaccine, get it and be on their way.
"Community pharmacy offers the ability to see people when it's convenient for them for services that don't require a diagnosis," Goad says.
THE PHARMACIST WILL SEE YOU NOW
If there's one message Lawrence M. Brown, Ph.D., PharmD, hopes to get across to Americans it's this: talk to your pharmacist. And not just to refill that allergy medicine, says Brown, the new president of the
American Pharmacists Association
(APhA) and associate dean of student and academic affairs at CUSP.
Today's pharmacists are trained and equipped with skills to be active members of the patient healthcare team. Tapping into that expertise can produce better outcomes, as well as lower some healthcare costs, he says.
"A lot of people just think of a pharmacist as dispensing medications, and they really do so much more," Brown says.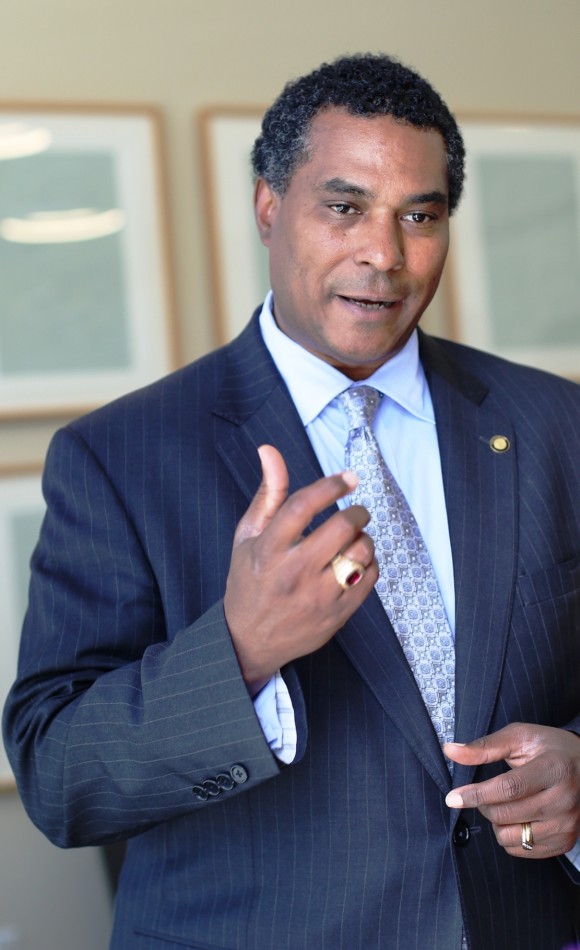 While president of the national organization, Brown will lead research into consumers' perceptions of pharmacists to see where the disconnect lies between what they are trained to do — from delivering vaccinations to the management of some commonly diagnosed conditions like asthma and controlled hypertension — and what consumers think they can do.
The eventual goal of the APhA is to expand the role of pharmacists and find ways to compensate them for that work, Brown says. It's not entirely new territory. Medicare Part D already reimburses pharmacists for a practice called medication therapy management, which uses pharmacists to conduct comprehensive reviews of medications and hold conversations with patients about effectiveness, Brown says.
How might that kind of service play out in a family practice or at a community pharmacy? Examples abound. Suppose you're a 60-year old woman prescribed medication to manage moderate but chronic pain. The trouble is it makes you so sluggish that you start skipping morning walks with friends and other activities important to your health and well-being.
Pharmacists know from research that many patients will not revisit a physician to talk about such annoyances. They'll assume there's no alternative, or tweak the dosage on their own, Brown says. Better would be to call the pharmacist, who could work with patient and physician to troubleshoot a safer and healthier solution. Maybe the patient would be satisfied with a different medication that would bring about 60 percent relief without the nuisance of grogginess.
"Those are conversations that often don't occur in the physician's office, largely because of time," Brown says. "But the pharmacist has a little more time to have these conversations."
Healthcare costs come down, too, Brown says. Numerous studies show a three-to-one return on investment with such programs.
"We're really getting to the tipping point where pharmacists are being recognized for more than just being able to dispense prescriptions," Brown says.
PERSONALIZED PURSUIT
The good news about treating the hepatitis C virus is that several excellent drugs treat it effectively. The bad news — besides the fact that worldwide infection rates are estimated at 180 million — is that the drugs don't work well for everyone.
Latinos receiving the usual drug therapy for the hepatitis C virus (HCV) do not respond as well or as quickly as do their Asian, Caucasian and African-American counterparts, often requiring extended treatment, says Jerika Lam, PharmD, clinical assistant professor at CUSP.
Scientists have found the genetic link responsible for that trait in people of Latino ancestry. The problem wasn't spotted in early testing of the drugs because Latinos and other ethnic groups are often underrepresented in clinical trials during drug development, Lam says.
As a translational clinical scientist, Lam is preparing to drill down to see what's afoot in that genome and see if there are clues to better outcomes.
"There's this genetic polymorphism that has been identified by many scientists, but there hasn't been any correlation in the clinical aspect. I want to analyze it further at the cellular level so we can at least have some idea why the responses are not consistent," Lam says.
Lam will compare cell lines drawn from a variety of HCV patients and test their responses to the hepatitis C drugs currently approved for treating the virus. Her hope is that from the existing drugs she can find the combination that will improve outcomes for Latino patients. This phase of the research is supported by a Chapman University Scholarly/Creative Activity (SCA) grant.
The drugs are costly, too, so crafting a personalized treatment plan would be more prudent than a hit-or-miss approach, she says. In the United States, an estimated 5 million to 7 million people are infected, largely from sharing dirty syringes, and those numbers are believed to be under reported, Lam says. HCV medical costs are estimated at $6.5 billion nationally, but the cost of cirrhosis, liver cancer, transplantation and premature death from untreated HCV is even greater, Lam says.
"We could reduce costs, create a personalized regimen and ensure that hepatitis C care for everyone is of high-quality," she says.
NEW TRICKS FOR OLD DRUGS
A new prescription drug takes time and money to develop — on average a whopping 14 years and $2 billion, according to the
National Institutes of Health. That's not happy news for ailing people waiting for the next breakthrough that will bring cure or comfort.
So imagine the pleasure of a researcher at CUSP who helped discover that an inexpensive class of drugs used to treat HIV for 30 years could be re-purposed to treat a major cause of blindness among seniors. Even better is that the tried and approved drugs are some the researcher worked on decades ago.
"When I started this collaborative work I never thought, 'Oh, maybe they can use anti- HIV drugs for anti-inflammatory purposes," said Keykavous Parang, Ph.D., PharmD, professor and associate dean of research, graduate studies and global affairs at CUSP.
But Parang and other researchers report that the anti-inflammatory feature of those anti-HIV compounds — called nucleoside reverse transcriptase inhibitors (NRTIs) — could slow or prevent macular degeneration, a leading cause of vision loss worldwide, and one expected to become a growing problem as baby boomers age.
Results of the study, led by Dr. Jayakrishna Ambati, professor and vice chair of the Department of Ophthalmology and Visual Sciences at the University of Kentucky, were published recently in
Science.
For HIV patients, the NRTIs, often called "nukes," have the effect of blocking the virus's ability to make copies of itself in healthy cells through DNA replication. In macular degeneration, the NRTIs work differently.
Through experimentation the scientists found that NRTIs stop an immune response that triggers a chain of proteins to develop — a domino progression that leads to degeneration of the macula. The macula is near the center of the retina and is the part of the eye that provides sharp, central vision.
Parang likened the drug's mechanism to an interruption in the delivery route of a package sent overseas, with many check-in
points along the way to its destination. "The package has to go through multiple steps," he says. "But if you block it at one step, that package will not be delivered."
Further studies need to be done to see how this strategy works in patients, in what form a re-purposed version of the drug might be taken and at what stage of the disease it would need to be deployed to be effective, Parang says.
NAILING DOWN STAPH
Seventy-two hours. That was the turning point for hospital patients admitted with particularly fierce bloodstream infections caused by a strain of bacterial staph infection, the methicillin-resistant Staphylococcus aureus (MRSA).
Jason Yamaki, Ph.D., PharmD at CUSP, and a fellow researcher found that the day-three tipping point was when patients either turned toward recovery or deteriorated toward almost certain death. In 2013, the scientists published a paper on their findings in
Clinical Therapeutics Journal
. But that was just the beginning of work that continues today as they turn their attention to that perplexing 72-hour junction in the fight against invasive MRSA, a severe infection that often occurs in people who've been hospitalized or are nursing-home residents.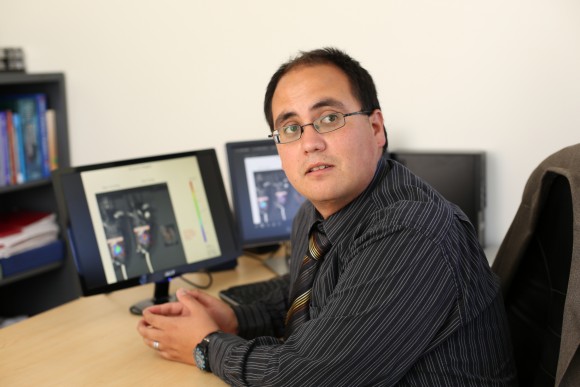 "We started to wonder what separates these two groups," Yamaki says. "And we thought, maybe it's their immune response."
So they turned their attention to assessing the patients' immune response, measuring the small proteins produced by the immune system while fighting infection.
They're still gathering data. But their hunch has resulted in preliminary results that are already opening eyes, Yamaki says.
"We've seen that patients who don't respond and fail therapy don't mount as strong an immune response," Yamaki says. "In fact, it seems like their immune systems down-regulate."
A certain amount of down-regulating is normal when the body is fighting infection, as the immune system performs a delicate dance between advancing and retreating while not running out of control, Yamaki says. But he suspects that something else is causing the fast-fading immune response in certain patients, possibly even a genetic source.
More study is needed, but these kinds of findings could lead to new treatment approaches for MRSA that take patient genetics into account, Yamaki says. The potential to save lives is significant. MRSA infections have declined in recent years, thanks to better practices in health care and group-home settings. But there's still room for improvement. In 2012, there were an estimated 75,309 cases of invasive MRSA infection, and some 9,670 deaths, according to the Centers for Disease Control and Prevention.
Says Yamaki: "My goal is to have an impact on patient care."