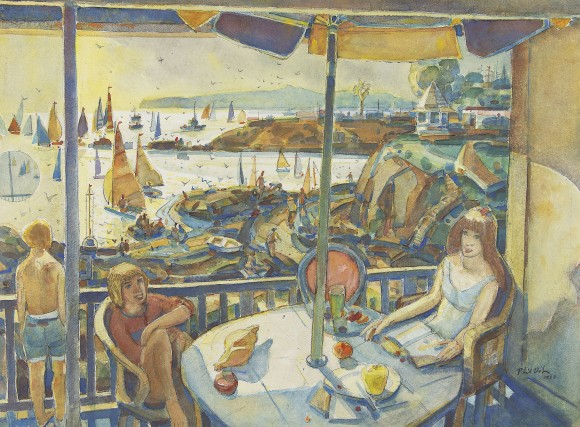 In the 1920s, bucolic California woke up and began to hum with the factories, cars, construction and industries that still shape it today. Inspired watercolor artists took note and soon California Scene Painting was born, a genre that captures both the people and landscapes of the Golden State.
Now the public will have an opportunity to view a selection of those paintings in an exhibition titled "Changing California: Selected watercolors from the Mark and Janet Hilbert Collection of California Art at Chapman University" that opens Tuesday, March 31, with a public talk and reception. The talk and reception, with refreshments, will be from 5 to 7 p.m. in the Doy and Dee Henley Reading Room at Leatherby Libraries. The exhibition will be on display there through Aug. 10 and open for viewing during regular library hours.
About the Hilbert Museum of California Art

Mark and Jan Hilbert

In November 2014 Chapman received a major gift of California art, valued at more than $7 million, from collectors Mark and Janet Hilbert. In addition, the couple donated $3 million to help establish a permanent campus museum open to the public. The gift will help transform the Villa Park Orchards Packing House on the Chapman campus, which will become the site of the museum in 2017.

"This will be the first museum anywhere that is totally dedicated to the display of California Scene and California representational art," said Mark Hilbert. "The intent will be to cast a spotlight on this style of painting and these amazing artists, and to make this art known around the world."
This exhibition marks the first time the public can see a selection of the paintings that will be part of the new Hilbert Museum of California Art that will open at Chapman in November. The dozen or so paintings selected trace how the artists represented the cultural and historical shifts that occurred in California from about 1930 through the 1970s, said Mary Platt, the exhibition's curator and director of communications and media relations at Chapman University.
"The earliest painting in the exhibition is a farm scene from the '30s, when much of the state's economy was agrarian. The most recent painting, from 1980, shows a family in a beachside hotel, with leisure activities – sailing, fishing, strolling on the beach – happening in the background. The entire sweep of paintings will show the state's development from farming to car and surfing culture to the entertainment and leisure juggernaut it is today," Platt said.
The California Scene movement flowed from the earlier California plein air and impressionist movement, but expanded to include scenes of daily life, from farm and city to factory and wharf.
In addition, many of the artists were also employed by movie studios in Los Angeles, especially Walt Disney's, painting studio backdrops and doing work on animated films. Their fine art often reflects the imaginative, kinetic style of those studio works.
(Featured image at top is "Sunset on the Breakwater, Redondo Beach" by Keith Crown.
The Mark and Janet Hilbert Collection of California Art at Chapman University)