As the nation remembers our military heroes on Veterans Day, November 11, Chapman University will commemorate their courage and service with two events, one on campus and the other in the Orange community.

First, the acclaimed poet Lorene Delany Ullman, author of the prose poem collection
Camouflage for the Neighborhood
, will give a talk on Tuesday, November 11 at 1 p.m. in the Fish Interfaith Center and a poetry reading at 4 p.m. in the Henley Reading Room, Leatherby Libraries, as part of Tabula Poetica's poetry series.  Admission to both events is free and open to the public.

"Delany Ullman's visit will honor the long tradition of poetry about war," said Tabula Poetica director Anna Leahy, Ph.D., i
n a recent article in the Orange County Register
.  "Poets around the world continue to write about the wars that have affected their lives. Reading poetry on Veterans Day is a way to remember past wars and consider the role that war continues to play in the lives of real people."  Delany Ullman teaches composition at UC Irvine.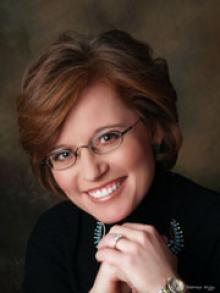 At 2 p.m. on Nov. 11, Kyndra Rotunda, J.D., director of Chapman's Institute for Military Personnel, Veterans, Human Rights and International Law, will be the keynote speaker at the City of Orange Veterans Day Tribute, which will take place at the Veterans Memorial in Depot Park, 100 N. Atchison Street.   This year's event, also free and open to the public, will pay special tribute to military women.  Professor Rotunda, an Army veteran and former JAG officer, will speak about the role of women in the history of the U.S. military, going all the way back to women who disguised themselves as men to fight in the American Revolution.  The tribute also will feature a group of Second World War re-enactors who will bring two vintage WWII Jeeps for people to view and take pictures in, and a real WWII veteran, Genevieve Brown of Orange, who served in the Marines and will bring some of her uniforms and other memorabilia to display.