The generosity of its donors and the role the campus will have in educating healthcare leaders of tomorrow were celebrated at a ribbon-cutting for Chapman University's new Harry and Diane Rinker Health Science Campus held on Wednesday, Oct. 15.

During an outdoor ceremony at the entrance of the new campus, President Jim Doti paid special tribute to the Rinkers, whose dedicated support has helped advance many campus programs and buildings, from Kennedy Hall and the library at the Dale E. Fowler School of Law to the Argyros Forum.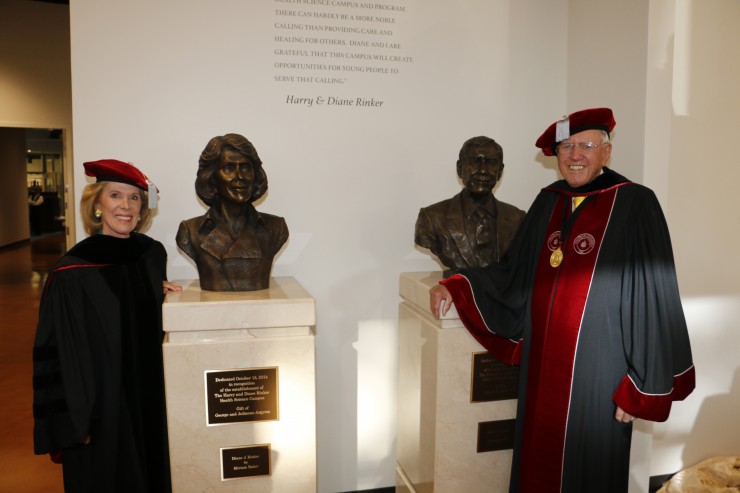 "Harry and Diane were always there, front and center, during the most transformative moments in the life of this University," Doti said. "And now we are here today — a new campus and new direction in the life of Chapman University, providing professionals in health care who will serve our community, our nation and our world — and Harry and Diane Rinker are here, front and center."




The 7.5-acre Rinker campus includes a cluster of three buildings located in the Spectrum area of Irvine, Calif. It becomes home to the new
School of Pharmacy
, the first pharmacy school in Orange County. Chapman's existing physical therapy doctoral program – one of the oldest in the nation – and the graduate programs of the new
John and Donna Crean College of Health and Behavioral Sciences
. Coming in 2015-16 the Rinker Campus will be home to other Crean graduate programs, including Athletic Training, and Communications Sciences and Disorders.

The facilities feature cutting-edge research and teaching labs, as well as classrooms using the latest technological advancements, including a motion-analysis lab and a nuclear magnetic resonance spectrometer equipped with a CryoProbe.

"The students in our Doctorate of Pharmacy program and our master's and eventually a Ph.D. program in the pharmaceutical sciences will enjoy what we have put in place here for decades to come. Chapman's commitment to excellence in this program is evident at every turn inside this building," said Ronald P. Jordan, R. Ph., FAPhA, dean of the School of Pharmacy.

Janeen Hill, Ph.D., dean of the Crean College of Health and Behavioral Sciences, said the new campus will be a place where students and faculty will work together to discover new knowledge and find the best ways to put it into practice.

"Our students will be prepared to work within the ever-changing face of healthcare delivery," Hill said.

In honor of the Rinkers' philanthropy, each was conferred with the degree Doctor of the University, Honoris Causa by Doti and Chancellor Daniele Struppa.

Following the ceremony, the labs and classrooms were opened to tours, with health science faculty stationed throughout to demonstrate and explain their work.