>>Online Exclusive: How Old Towne Orange residents have made their peace with a diverse parade of people in the city that Chapman University calls home. Read more.
Chapman nestles into the community it calls home, helping to foster an academic village.
It is an old and simple house, by Orange County standards — a 1924, three-bedroom bungalow of just over 1,000 square feet, its only hint of pretension being the arrangement of cut stone around the fireplace, positioned to show off a scattering of fossils embedded in the rock. But there's grace in the way the light pours through the wide windows, the afternoon shade cools the front porch and the wood floors glow like warm honey.
For
Professor Vernon Smith, Ph.D.
, a Nobel laureate in economics, and his wife, Candace, it is home.
"I grew up in a house that had a lot of similarities," says Smith, relaxing on the sofa in the living room of his Old Towne Orange residence. "I love it here. I feel really at home here."
Plenty of other folks share that sentiment. Since its grid of tidy streets was first planned out in 1870, the area at the center of the City of Orange has always been a vibrant community for every strata of society.
When the one-square mile area that includes the Orange campus of Chapman University was placed on the National Historic Register of Historic Places in 1997, that charm fledged into a cherished community character. Old Towne is protected by city building regulations, vigilant preservationists and new generations of homeowners willing to pour sweat equity and elbow grease into vintage homes.
The four-block business district around the historic Plaza Park has changed with the times, too. Called "a hotbed of retro-with-a-twist businesses" by the Orange County Register, the district is now home to trendy boutiques, galleries, award-winning restaurants, a Saturday farmers' market, walking food tours, brew pubs and gourmet shops.
Increasingly, Chapman faculty and staff are also calling Old Towne home, as the University buys residential properties when they come up for sale and rents them to faculty and staff. To date the University owns 87 homes in the historic district, 50 of which are officially designated historic structures. Dozens of professors, administrators and staff members now live within walking distance of the University.
Chapman's goal is to help foster an intellectual village that starts on campus and extends into the surrounding neighborhoods. In so doing, the University preserves vintage homes while infusing Old Towne with newcomers whose connection to the community aligns with that of longtime residents, says Kris Eric Olsen, vice president of campus planning and operations.
Olsen, who oversees the University's restoration of historic homes and the refurbishing of non-historic buildings, says the academic village is a tradition at many universities. In Orange, Olsen says, Chapman is helping to build a community akin to Cal Tech's faculty neighborhoods, where classic California Craftsman homes "are a complement to the university."
All the buildings purchased by Chapman undergo a thorough transformation, but the historic houses in particular receive painstaking attention. Unlike refurbishing, restoration is an effort to return a structure to its original state. Chapman targets myriad architectural and aesthetic details that range from repairing double-hung windows to finding period-appropriate paint.
Chapman's dedication to the process is incredible, says 15-year Old Towne resident Jeff Frankel, who sits on the board of the
Old Towne Preservation Association
and heads up its preservation committee.
"You can always tell a Chapman-owned property. It's maintained impeccably, and the restoration and rehabilitation are top-notch," Frankel says.
A collegial environment is growing.
Anna Leahy, Ph.D.
, associate professor in the Department of English, says she and her husband, science librarian Doug Dechow, Ph.D., so enjoyed living near campus that they purchased an Old Towne house of their own.
"We thought it might be too close, but it didn't feel that way at all. Living in University housing allowed us to become involved in the campus community in unexpected and fruitful ways," Leahy says. "We also got to know other faculty in the neighborhood surrounding campus and took advantage of Old Towne Orange."
Lori Olsen says she was pleasantly surprised by the vibrant community surrounding campus. Before they moved into one of the University residences — they've lived in three — Olsen says she didn't quite get what her husband was talking about when he spoke of campus life.
"When Kris first started working here we lived in San Clemente. And he kept coming home and saying, 'It's so cool. There's something going on all the time,'" she says. "When we moved here I totally got it. I love it."
The Olsens live about a block from campus in a 1919 home originally built as a Mennonite church. As he stands in the great room that was once the church sanctuary, Kris Olsen says that the life story of the structure has affected him in profound ways.
"When we first moved in, you'd sit here with your cocktail and you'd think about all the weddings and christenings and funerals that had been here and how so much of life was represented in this room. At the beginning it was almost overwhelming," he says.
A look into the misty history of the Smiths' Craftsman-style home reveals a wide array of past residents, including a garden club doyenne, a World War II air-raid captain, a fertilizer salesman and law school students.
That's all just mildly interesting to Vernon Smith, one of the world's leading economists. His first thoughts on the house are that it's the only one he's lived in that doesn't have room for a home office, and he's found that he enjoys the short walk to his campus office, as well as the separation of work and home.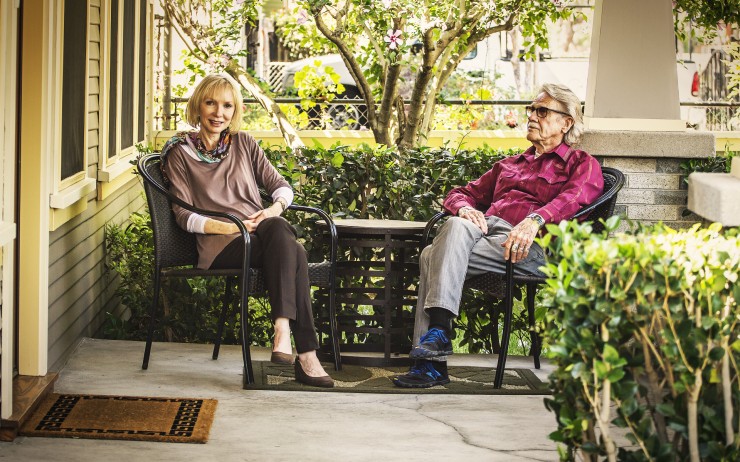 To Candace, it's "the dollhouse," and she's had scaled-down furniture made to fit its dimensions. Together the Smiths have filled it with treasured art from local galleries, assembled a small library in a front bedroom and planted a robust vegetable garden out back.
But doesn't Smith sometimes think of all those past lives as he goes about his daily existence in one of Orange County's most historic neighborhoods?
Smith smiles and shakes his head.
"I haven't. It's my home now," he says.
Photos by Scott Stedman '14.