This story appeared in the spring 2014 issue of
Chapman Magazine.
Although Steve Napolitano '03 pursued history with a passion, and his interest in the law propelled him to a Chapman J.D. degree, these days he's pouring himself into a whole new pursuit. He has co-founded an Orange County brewery.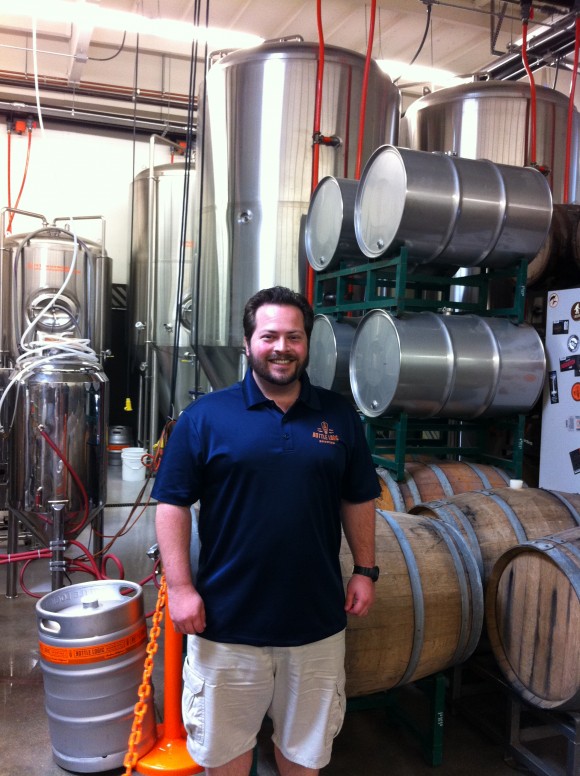 "It was the best way to pass the time and relax," he says of his first forays into beer-making as a hobby. "After reading book after book, sometimes I just needed to work with my hands."
After graduating from the Fowler School of Law in 2009 and then working in human resources for a packaging company, Napolitano continued brewing with two friends in his spare time.
"Originally we just joked about opening a brewery," Napolitano says. "I had a job and they had jobs, so I never thought we'd go through with it. It was only after doing some preliminary research that the joke became real."
It took a year to develop not only a business plan but also a 1950s-inspired science-fiction theme, conveyed through branding and labeling, as the brewers worked to excite imaginations as well as taste buds. In spring 2013,
Bottle Logic Brewing
opened in Anaheim. Napolitano handles administrative duties as president, yet his greatest joy comes from interacting with customers in the tasting room.
"The atmosphere is calm and the people are friendly," he says. "And there's no better feeling than seeing someone enjoy what I've made."
Photo at top courtesy of Bottle Logic Brewing.