This story appeared in the spring 2014 issue of Chapman Magazine.
On a sunny Saturday morning, Santa Ana schoolteacher Collette May stood in a long, snaking line to see the keepsakes, desk, artwork, memorabilia and biographical pictorials that make up the new permanent California's Gold exhibit and Huell Howser Archives.
And she didn't mind the wait one bit.
"I loved it," May said during the exhibit grand opening March 29 at Chapman University. "I'm a California native, and I think he  did such a great job of showing people across the state. It's not just Hollywood. It's all the people, all the places."
May had plenty of company, too. An estimated 4,000 visitors filled the campus for the debut of the permanent exhibit devoted to the life and career of the late California broadcaster known for his folksy style and unpretentious programs about the state's ordinary and extraordinary characters and sights.

The exhibit room, on the basement level of the Leatherby Libraries, features colorful wall copy and graphics outlining Howser's distinguished career in broadcasting and the evolution of his shows devoted to exploring California. There are also memorabilia display cases and a full-sized model of the office where he edited all his shows.
Along with the exhibit is space where scholars and others can perform research using episodes of the shows. Howser donated to Chapman more than 900 episodes, which are now digitized and available for viewing online at www.huellhowserarchives.com.
During the daylong open house, visitors were treated to performance and informal talks made famous by those shows, ranging from The Whistling Diva (Carole Anne Kaufman) to The Lint Lady (Slater Barron).
Many visitors, like Tony Beardsley and his wife, Mae, from San Dimas, Calif., stopped to chat and have their photos taken with Howser's longtime cameraman, Luis Fuerte. Beardsley said he and his wife  often spend weekends touring the towns and sights they see featured on the shows.
"I liked the interesting places he went. A lot of times I went and explored them myself after seeing the show," he said.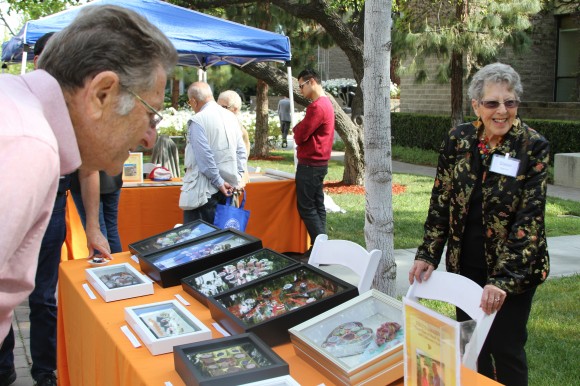 Another highlight was the debut of the documentary A Golden State of Mind: The Storytelling Genius of Huell Howser, by Chapman film professor Jeff Swimmer, produced with support from the Automobile Club of Southern California and Chapman University. Several screenings played to sold-out audiences in the Waltmar Theatre.
Even with all the festivities, there were poignant moments among fans of Howser, who passed away in January 2013.
Said May: "I'm sad that there aren't going to be any more shows, but I'm grateful for what he left us."