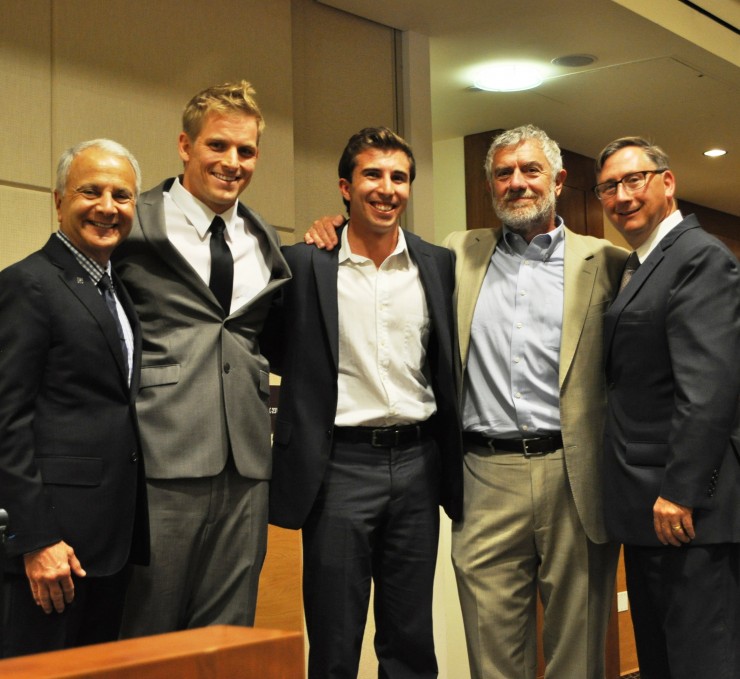 Elliot Cooley '14 and Adam Kalawi '14 are this year's recipients of the Cheverton Trophy, Chapman University's highest student achievement award presented to graduating seniors. The awards were announced during the 2014 Campus Leadership Awards held Friday afternoon in the Sandhu Conference Center.
Cooley is a Presidential Scholar and double major in mathematics and computational science. He was the lead developer for Autism Management Platform Project – an Android application and website developed to assist parents and educators of autistic students – and is a software design engineer in test for Microsoft Inc.
Kalawi is an Albert Schweitzer Scholarship recipient and a double major in biochemistry and molecular biology and Honors Program. He was a medical intelligence and innovations intern for Children's Hospital of Orange County and the Robotics and Robotic Surgery Abstract Competition Winner for the Pediatrics 2040 Conference.
One of the oldest awards presented by Chapman, the Cheverton Award was established in 1929. The original bronze cup awarded to recipients was a gift of the Class of 1929 and remains on exhibit in Argyros Forum on campus, along with its successor, a silver bowl. Upon the trophies are engraved the names of all Cheverton awardees since 1929.
In addition to academic accomplishments, awardees must demonstrate a "high moral character" and "represent the spirit of Chapman University." The award is named for Cecil F. Cheverton, Chapman's sixth president, who served from 1929 to 1941.
Also receiving awards were:
Peterson Award
Camellia Khalvati '14
Huntington Award for Outstanding Scholarship
Kathleen Doll '14
Adriana Ariza '14
Rebeca Herrera '14
Diversity Leadership Award
Selva Miranda '14
Paul S. Delp Outstanding Service Award
Lord Ryan Lizardo '14
Outstanding Seniors
Daniel Fister
Mark Saatzer
Danielle Luchetta
Anthony Ewell – Kollman
Erin Wainwright
Vanessa Gorski
Andrew Schreyer
Bronwyn Holder
Ema Solarova
Randen Morisako
Jared Celniker
Daniel Brennan
Haley Wragg
Allison Hatch
Justin LaLonde
Outstanding Juniors
Nicole Goehring
Lana Barendse
Henry Nelson Tracey
Jennifer Bowen
Wendy Acquazino
Samantha Cressey
Spencer Berry
Devon Hillard
Samantha Summers
Kristen Pedley
Outstanding Sophomores
Annaliese Baker
Carmina Portea
Eric Sirvinskas
Yecenia Vargas
Brady Slater
Kelley Moody
Nathaniel Bischoff
Erica Snider
Taylor Krause
Vaughn Ryan
Outstanding First Years
Elise Levesque
Leon Lukic
Tristan Tran
Tzuni Lopez
Miranda Nuevo
Allyson Hoch
Taylor Panconi
Lotus Thai
Victoria Edgar
Ryan Rodriguez