The spelling words are alphabetized. Twenty sentences, one for each vocabulary word, have been carefully written out. The math problems are correctly done. So how does 9-year-old Jair Cortes feel about having all his homework finished in time for a romp on the playground?
"Happy," says Jair, who is among the dozens of students who receive after-school tutoring at The Friendly Center, a nearby nonprofit organization that provides a variety of programs for low-income families. "I feel smart."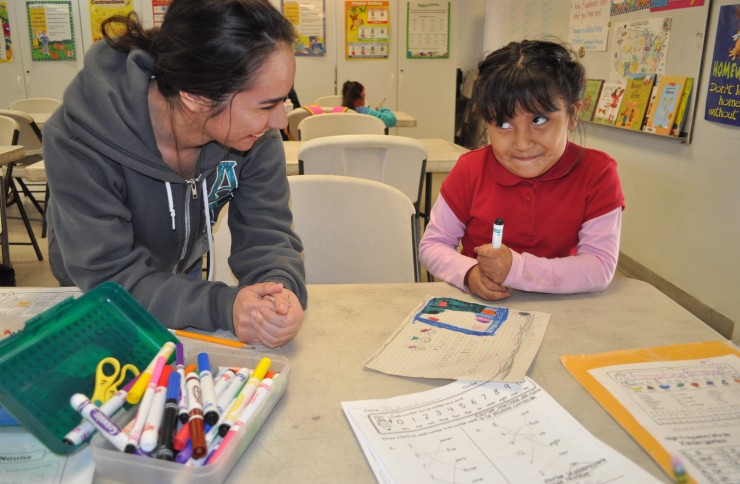 And his tutor, a Chapman University freshman majoring in integrated educational studies, feels pretty good, too.
"I really like working with kids. They always have a lot of energy," says Kelsi Stone '17 of Hayward, Calif.
Stone is not unique in that. She is just one of 33 Chapman students hired as after-school homework tutors at The Friendly Center as part of their Federal Work-Study financial aid packages. The Chapman students help youngsters in grades kindergarten through sixth with everything from early reading to middle-school math. Most are assigned to the headquarter site in Orange, but others also work at satellite programs in nearby cities.
It is a student job that doubles as career experience, says sophomore Melina Rios '16 of San Diego, Calif. Rios says that when she perused the list of work-study opportunities available through Student Employment Services, the tutoring job stood out as an ideal choice.
"It's more relevant to my educational goals. At the end of the day I just feel like I'm helping to serve the kids," Rio says.
She delights in seeing her young students master a concept or solve a problem during the tutoring sessions.
"It clicks and you see it in their eyes and you can tell they get it," she says. "It's fulfilling."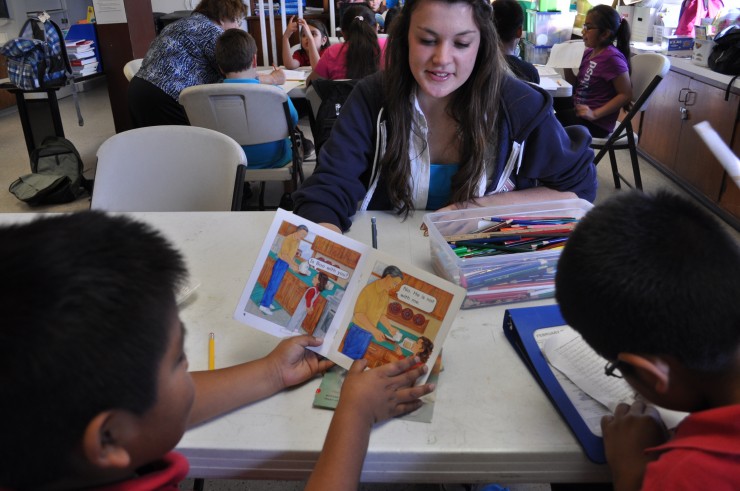 The tutors pick up a few lessons in the process, too. On one recent afternoon, Stone managed a table of five boys, shifting gears as she listened to a first-grader read aloud, prodded Jair to finish his vocabulary sentences and checked a sixth-grader's completed homework before releasing him to the recreation room.
"It's definitely an experience to learn how different-aged learners work," she says.
Some work-study students even return as volunteers. Paulette Garcia '14, a double-major in business and psychology from Orange, started as a work-study employee but now volunteers with the center's after-school program. Garcia grew up in the area and says her dedication to The Friendly Center stemmed from a deep understanding of its influence on early school success.
"I knew a lot of people who were really helped a lot by the tutoring program here," she says.
Cynthia Drury, program director at The Friendly Center, which has its primary location in Killefer Park just west of campus, says the students' presence there is invaluable. In addition to the work-study students, Student Civic Engagement organizes volunteers for the recreation and food distribution programs. All the students lend something to the center's clients that goes beyond the day-to-day tasks, though.
"They're really mentors," Drury says. "A lot of the children come from families that do not have a high school education, so to work with someone who goes to college and is attaining a dream is terrific."
More information about The Friendly Center, which celebrates its 90th anniversary this year, is available at the organization's website.