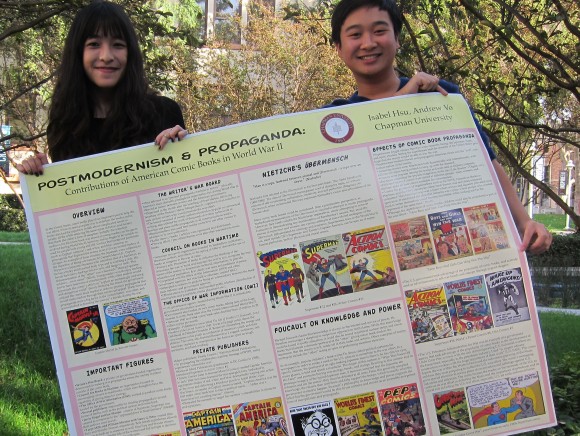 It's always fun to note student awards, but in the case of a recent prize won by two students in the Chapman University Honors Program, a dramatic exclamation of "Wow!" and "Super!" is particularly appropriate.




Isabel Hsu '15 and Andrew Vo '15 won first place at the National Collegiate Honors Council Annual Conference last month for their research poster titled
Postmodernism & Propaganda: Contributions of American Comic Books in World War II
. Their colorful poster explored how comic book publishers transformed their characters into patriotic superheroes lending their fantastic powers to the war effort by buying war bonds, slugging the enemy and battling Nazis as part of the government's propaganda machine.

The students' interest in this era of publishing didn't spring from their majors — Vo is studying biochemistry and Hsu creative producing – but from their fascination with comics and the Honors Program support for interdisciplinary endeavors.

"The one thing that we both have in common is our love for comic books. It was interesting to take an academic point of view of them," Vo said.

The national conference was held last month in New Orleans and was attended by more than 2,100 honors students, faculty and administrators from throughout the nation and overseas. Hsu and Vo were joined by 10 other Chapman University students and Julye Bidmead, Ph.D., professor of religious studies, who presented her faculty research,
Tarnishing Tiana's Tiara: Disney's 1920's New Orleans as a Corrective?


Other student presenters and topics included:
Kayla Camacho, Living Life in the –In-Between: The Literature of Post Colonial Nigeria.

Jared Celniker, One-Minute and a Rubber Bracelet: Fostering Heroic Behavior

Nicole Connolly, Dumb, Expensive Kids: The Failures of the U.S. Public Education System

Desiree Greenhouse, The Effects of the Contemporary Digital Archive: How Anonymity Influences the Memory of Gender

Isabelle Hsu, Andrew Vo, Comic Books and the Presentation of the Other

Abby Kim, Emmabel Orendain,  The Hunger Games: The Rebellion of the Colonized and the Coming of Age Story

Megan Parish, French Theatre in the Revolution: Spotlighting Politics on Stage

Katey Phillips, Shadows of Flowers

Cristiana Wilcoxon, Hometown Tourism: A How-To on Studying Abroad in Your State; Harry Potter as a Global Business Phenomenon

Marissa Wong, Redefining Black Males in Education: A Project-Based Approach to Closing the Achievement Gap

In addition, Wilcoxon, Connolly and Hsu gave an hourlong presentation about
SapereAude
, the online journal created by the Honors Program.