Welcome to "Class Act"

The course schedule can't list everything you need to know about the classroom experience. So come looky-loo with us in "Class Act," a new Happenings feature that takes readers into the classroom. First up is a visit to Professor Bill Kroyer's History and Aesthetics of Digital Arts during a visit by Disney animators. Please send more Class Act suggestions to pr@chapman.edu.
Don't mess with Mickey Mouse.
You could say it's a bit of a mantra around Walt Disney Animation Studios, says Disney director and animator Lauren MacMullan. So what did MacMullan do when she had an idea for a Disney animated short? She messed with Mickey Mouse.
"The gloves came off," she said, joking with students last week in the History and Aesthetics of Animation History class taught by William Kroyer
at Dodge College of Film and Media Arts.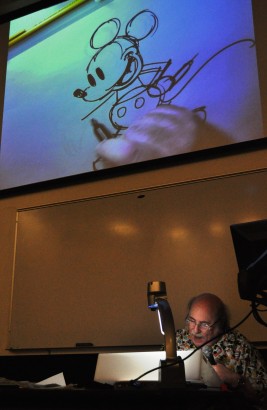 MacMullan's jest was a literal reference to the contemporary Mickey's puffy white-gloved hands as well as a joyful description of how she and her studio team busted tradition to re-animate the old school 1928 Mickey – stubby fingered but ungloved – with computer graphic animation. The result is Get a Horse!, a delightful five-minute 3D short that will be released Thanksgiving week in tandem with
Frozen, the studio's newest animated 3D feature.
But thanks to a visit by MacMullan and colleagues, a theatre full of Chapman University students didn't have to wait. They donned 3D glasses in Folino Theater Wednesday night and were treated to a screening during class. The short was received with applause, and while we leave the spoilers to
others
, suffice to say that the short is both homage to classic animation and a showcase of digital technology.
Demonstrations and discussions about how the animators made all that magic followed the screening, as MacMullan (Wreck-It Ralph,The Simpsons) was joined by fellow animators Eric Goldberg (Aladdin, The Princess and the Frog) and Adam Green (Tangled and Wreck-It Ralph).
Proving that hand-drawn animation still lives, veteran Goldberg demonstrated how they created model sheets of vintage Mickey that appeared old but were new drawings.
"We used the latest technology on this. We used paper and pencils. Remember that stuff? By crackey!" he said, as he took pen in hand and began sketching Mickey, the whole process displayed for students on an overhead.
Green, head of CG animation at the studios, described how artists "aged" new drawings to look old and shared early drafts to show the technical processes that went into the film's making.
But whether they were describing technology, wielding a pencil or relating tips about landing an internship, a common message from the artists was that students should let their personality show in their work. That thought resonated with graphic design major Wesley Eramo '14.
"When they were talking about making stuff that is unique to you and that shows your personality, it makes me want to design in a way that validates my style," Eramo said.
That's why guest speakers are vital to the classroom experience, says Kroyer, who also hosted DreamWorks animator Tim Johnson in class this semester.
"You get a sense of their passion and energy and dedication," Kroyer says. "These are people who are extremely talented but are also extremely motivated and extremely dedicated, and that really comes across when you hear them talk and listen to their enthusiasm."
That's the stuff of old school and new school.
"Times change, but the artistry goes on," Kroyer said. "That's what (students) have to remember."