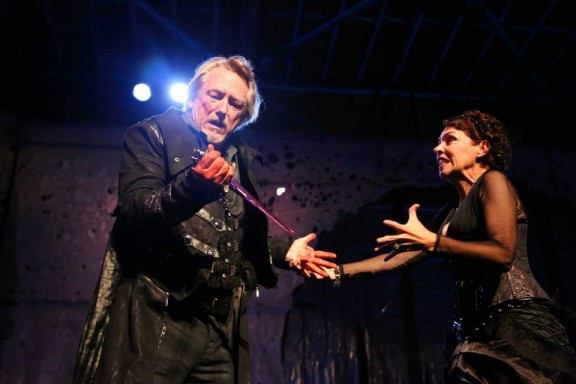 Go big or go home, the old saying goes. But Tom Bradac, professor of theatre in the
College of Performing Arts
, decided to do both. Bradac is wrapping up his 34-year run as artistic director of Shakespeare Orange County with a knock-their-socks-off production of
The Tragedie of Macbeth
.

Bradac says he chose the great tragedy because he felt the production company hadn't quite hit its mark on that one over the years. Judging by the reviews, Bradac's final production for the Garden Grove-based company nailed it this time.

"This isn't just good Shakespeare – it's
great
Shakespeare," writes Orange County Register theatre critic Eric Marchese.

And the good news for the Chapman University community is that SOC is offering half-price tickets to all students, faculty, staff and alumni. Discounted tickets can be reserved by calling the box office at 714-590-1575.

Bradac won't be a stranger to the company he founded, which was housed for a time on the Chapman campus and continues to cast Chapman theatre students and alumni in many of its productions. He's already committed to playing the role of Nick Bottom in
A Midsummer Night's Dream
next summer. Having more time for his own acting was the driving force behind his decision to step down from the fundraising and producing responsibilities that go with the role of artistic director.

"I've taken that responsibility for 34 years and now it's time to concentrate on myself and my own creative work specifically," he says. "So I'm going back to where I started."

Macbeth plays Thursdays through Saturdays at 8:15 p.m. through Saturday, Aug. 31. Regular-priced tickets are $35; Thursdays are pay-what-you-"Will," with a suggested donation of $10. The Festival Amphitheatre is located at 12762 Main St. in Garden Grove. For more information, visit the
Shakespeare Orange County website
.