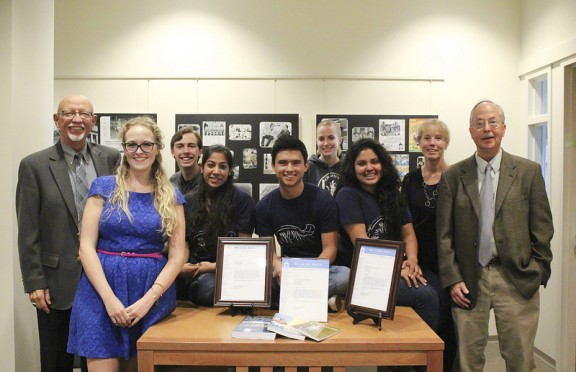 With research papers on topics ranging from the power of anti-war rock ballads, to the horrors of yellow fever in 1853 New Orleans, Chapman University's student-created history journal has for the third time won a prestigious national prize.
The online history journal Voces Novae won "Best Undergraduate Electronic Journal in the 2012 Gerald D. Nash History Journal Award competition." The journal is published by the Department of History's Alpha-Mu-Gamma chapter of Phi Alpha Theta, a history honor society.
An award letter from the national organization praised the students for their diligent efforts, which includes editing the content submitted by their fellow students and mastering the technology of the online platform used for digital publication. In a letter from the national organization, the student project was praised "as an example to the more than 870 chapters of Phi Alpha Theta."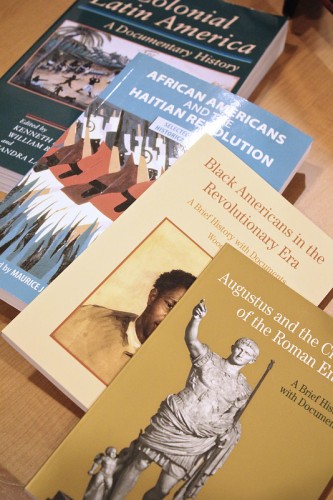 The honor includes a $100 award for the winning chapter to use toward the purchase of books for its library's history section. During a gathering at Leatherby Libraries to formally present the books, history Professor Leland Estes, Ph.D., one of the main faculty advisors to Voces Novae, noted that until this year the chapter competed with both graduate and undergraduate journals. This year's award was the first given exclusively to undergraduates.
"It turns out that you guys have won so much that none of the graduate programs could ever win. This year they actually started a graduate Nash Prize. It's extraordinary," said Estes, who is also the faculty advisor for the Alpha Mu Gamma History Conference held each year in March.
The 2012 issue published in late spring and its content is entirely made up of student research papers. Articles ranged from "Tin Soldiers and Nixon Coming: Musical Framing and Kent State," which explored the power of popular music to vent societal anger, to "Hard Times in the Big Easy: The Medical, Social, and Political Effects of the Yellow Fever Epidemic of 1853 in New Orleans."
All issues of the journal may be viewed at the Voces Novae website.