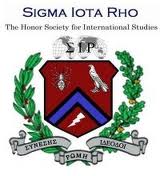 A debate titled "Nuclear Iran" featuring several Chapman University experts will be held Wednesday, Nov. 14, at 7 p.m. in Argyros Forum 207.

Hosted by Sigma Iota Rho, the Honor Society for International Studies, the panel will include professors Donald Booth, from the George L. Argyros School of Business and Economics, Jim Coyle, director of the Center for Global Education, and Nubar Hovsepian and Jean Tomphie, from the Department of Political Science and International Studies in the Wilkinson College of Humanities and Social Sciences.

The debate is free and open to the public.