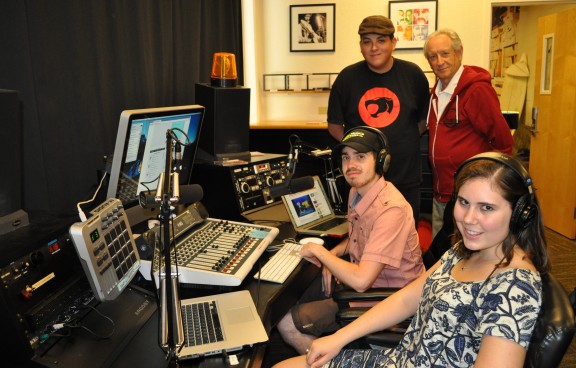 Watch out – or rather listen up — for small but mighty college radio stations with a can-do attitude and a team of talented students. Chapman Radio, described by its student general manager as "a very scrappy radio station" with both Communications Studies students and Chapman Radio Club members in charge of management and programming, has been listed by Princeton Review as one of the 20 most popular college radio stations in the country.
The Internet-only Chapman Radio broke into the top 20 list thanks to the high rankings heaped on by student listeners.
Princeton Review developed the list from a student-satisfaction survey sent to 122,000 students at 377 institutions. That Chapman Radio's stamp of approval comes from its listening audience makes the award all the more sweet, says Zak Griffler '13, Chapman Radio's general manager.
"It's really validating that our little quirky brand of radio was so recognized," Griffler said.
Quirky and original programming is precisely the goal at Chapman Radio, which is staffed by students, with the occasional exception of an on-air faculty host. If a student or faculty member has an idea for a show and there's an open slot on the schedule, chances are the management will let him or her have a go.
"Our guiding principle is really to give everyone a platform," Griffler said. "At any given hour you could be listening to a country music show or a philosophy talk show."
The result is a program lineup that would befuddle commercial radio executives. Music shows range from folk to hip-hop. Talk shows focus on everything from fantasy football to domestic and global affairs.  Based on listener statistics, the station's top show is 50,000 Speed Blender, "a frenetic wrangling of rock 'n' roll, open phones, live performances and guests both real and imaginary" that streams live on Wednesdays at 4 p.m. Last week's "Show of the Week" awarded by radio staff was The FAN-DOUBLE-TASTIC Hour with Chris Covell, a Thursday 10 a.m. variety show "filled with music, games, wild acts, stories, poems, humor and candy."
Professor Allen Levy, who teaches radio and media history in the Department of Communications Studies and is faculty adviser to Chapman Radio, says the eclectic mix represents radio in its purest form.
"It is absolutely the antithesis of commercial radio. I believe we are true to what radio should be," Levy said. "That's the fun of it."
Although founded as an AM station with limited reach in 1967, Chapman Radio operates today from a Henley Hall basement studio, and programming is streamed live via the Internet. The only public "broadcast" is into the Student Union at Argyros Forum. But live streaming and archived programming can always be found at the station's website, www.chapmanradio.com. Students have also designed a mobile app for listening on mobile devices.
And if you're a student or faculty member with a program idea, drop them a note. Just remember — think quirky.