The Henley Hall Fitness Center could well go by a new nickname pretty soon – something along the lines of the Rumpelstiltskin Green Gym.
Because now when students step onto new workout machines in the basement fitness center, the machines capture the kinetic energy their users generate while sweating away the calories and spin it into gold in the form of electric power. All that power flows through an inverter that converts it to electricity and sends it to the grid, dramatically reducing the gym's energy consumption.
Such green benefits are reason enough to celebrate the arrival of the 14 new machines, but these have an added perk: Exercisers will soon be able to digitally connect their workouts to an online program and earn points for discounts on an array of sports and fitness products based on the amount of sweat equity they pound out. Chapman University is the first university to adopt the SportsArt Fitness Machines and its companion point system, Ecofit, according to Mackenzie Crigger, energy conservation and sustainability manager.
"There's such a connection. Students see how much energy their workout makes. It's just what students want. They want to know about other avenues of sustainability. Not just recycling," Crigger said.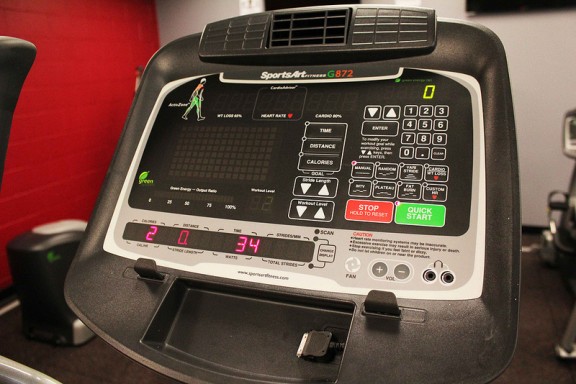 Crigger plans to use the watt-tracking features to stage competitions among residence halls, clubs and campus departments, perhaps challenging them to see which team can generate the most wattage in 20 minutes.
Everett Lacro '05, the facilities management project supervisor who suggested and researched the green equipment, has tried it out and says it's a kick to watch the power add up in real time as you work out. To demonstrate, he drops his Ecofit card into a built-in holder on an elliptical machine and starts climbing.
"It's amazing. I can see how much power I've generated. It's pretty cool," Lacro said. Once the software is installed in the next couple of weeks, he'll also be able to start earning those reward points, too.
Meanwhile, Lacro and Crigger foresee more student and campus enthusiasm for working out, once participants see the fun of creating little avatars for their exercise profiles and posting to Facebook the latest stats on their workouts. That effect was evident already as the fitness center debuted the equipment during a soft opening last week.
"I've never really heard of this before," said Taylor Brickner '16 as she began an afternoon workout on an elliptical machine. "It makes you want to work out more."
And more is good for the bottom line. The crew team's morning sessions will clearly add more juice than the after-work treadmill walker. (Yes, the Henley Hall Fitness Center is open to faculty and staff.) But with six elliptical machines, four stationery bikes and four treadmills and a variety of users, the electric gold will add up. The average 45-minute workout generates about 40 watts — enough electricity to run one of the gym's energy-efficient 28-watt bulbs for about 90 minutes, Crigger said.
She expects all that running, cycling and climbing will return enough energy to the grid to offset the fitness center's air conditioning and lighting.
Even Rumpelstiltskin couldn't do that.