The 20
th
Century's two most profound discoveries in physics will be the topic of a forum for a general interest audience featuring one of the world's most influential quantum physicists Wednesday, Dec. 14, at Chapman University.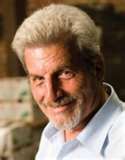 Quantum physicist
Yakir Aharonov
, Ph.D., professor in the School of Computational Sciences at the Schmid College of Science and Technology, will describe in layman's terms Einstein's theory of relativity and quantum theory. Attendees do not need prior knowledge in physics or mathematics.

"Einstein's theory of relativity revealed that space-time is not what we experience in everyday life," said Jeff Tollaksen, Ph.D., associate professor and director of Center for Quantum studies at Chapman University. "For example, if you travel close to the speed of light, then you will age more slowly than somebody who stays on earth. Quantum theory showed that nature is not deterministic, as Einstein put it, 'God playing with dice.'" With quantum theory, we therefore lost the ability to predict the future with certainty. Professor Aharonov will describe a fresh new approach to these surprises of modern physics which he and his group have developed."

Dr. Aharonov is a distinguished professor of theoretical physics at Chapman and considered one of the most highly regarded scientists in the world, receiving the Presidential National Medal of Science from President Obama earlier this year, and the prestigious Wolf Prize in 1998 for his co-discovery of the Aharanov-Bohm Effect, one of the cornerstones of modern physics.

The forum will be held at 5 p.m. in Irvine Lecture Hall.  It is open to the public and refreshments will be served. No reservations are necessary.