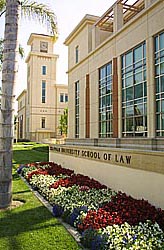 The results from the July 2011 California State Bar Exam show that first-time takers from Chapman University School of Law have passed at a 79 percent rate. Members of Chapman's Class of 2011 who took the July exam for the first time passed at an 81 percent rate.  The results mark the second highest historical pass rate for Chapman's first-time takers in a July exam.  And for the first time ever, Chapman has exceeded the California ABA school average in both the February and July exams.
The California State Bar ABA pass rate was 76 percent, up from 75 percent in July 2010. The overall pass rate for California (including non-ABA schools) was 54.8%; the non-California ABA school pass rate was 66 percent.
"The Chapman law students put in a tremendous performance on the California bar exam. They beat the state average by a huge amount," said Tom Campbell, dean of Chapman's School of Law. "Chapman's percentage of passage grew by almost 10 points, at a time when the state average barely rose one point. Our 2011 graduates make us all proud, and reconfirm: Chapman Law is on the rise!"
Chapman had 159 law students take the bar exam for this first time in July—of those, 126 passed.