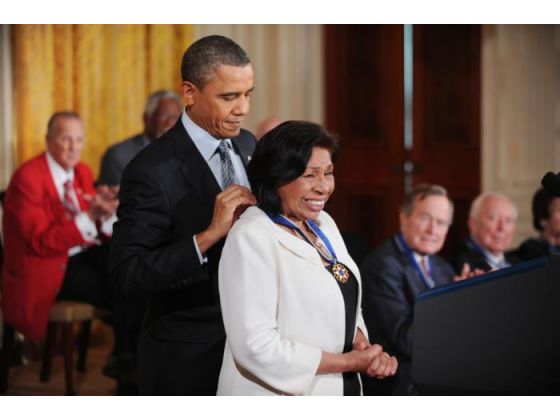 Sylvia Mendez, a leading Orange County civil rights activist and friend of Chapman University, was awarded the Presidential Medal of Freedom by President Obama in a White House ceremony today.
Mendez was honored for her lifelong quest for equality and for making it her "life mission to spread a message of tolerance and opportunity to children of all backgrounds and all walks of life."
Mendez was 8 years old when her parents, Gonzalo and Felicitas Mendez, joined with other Latino families and filed suit against school districts forcing their children to attend segregated schools. The 1947 Mendez v. Westminster case, a class-action lawsuit filed on behalf of more than 5,000 Mexican American students in Orange County, made California the first state in the nation to end school segregation, paving the way for the Brown v. Board of Education Supreme Court ruling that desegregated all U.S. schools in 1954.
The Mendez family archives are housed at Chapman's Leatherby Libraries.
The nation's highest civilian honor, the Medal of Freedom is presented to individuals who have made especially meritorious contributions to the security or national interests of the United States, to world peace, or to cultural or other significant public or private endeavors.
See complete coverage of today's event in The Orange County Register or watch aWhite House video  of the ceremony online.