Judy K. Montgomery, Ph.D., professor and Director of Communication Sciences and Disorders in the College of Educational Studies at Chapman University, has been awarded the Honors of the Association Award, the most prestigious lifetime achievement award conferred by the American Speech Language Hearing Association (ASHA).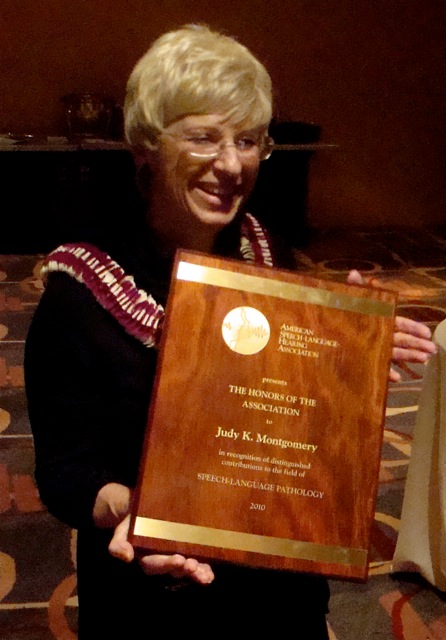 Dr. Montgomery was recognized at the association's conference in Philadelphia on November 18, 2010, for establishing services of the highest quality for children with communication disorders in school settings in California, as well for her outstanding international contributions in research, teaching, professional publications and humanitarian endeavors. She has made numerous contributions to speech-language pathology as an administrator, teacher, researcher, volunteer leader, and journal editor.
"Judy Montgomery's heart is always with the clinician," notes Barbara Moore, Director of Special Youth Services for the Anaheim Union High School District. "Her work represents the respect she has for them, as well as her desire to advance their work. She has enhanced the lives of consumers and professionals, and has touched us as a friend and colleague."
Concern about the shortage of speech specialists led Montgomery to a rare accomplishment—opening at Chapman University the first new graduate-level Communication Sciences and Disorders (CSD) program in California in 26 years. Montgomery has served as a volunteer leader for more than 20 organizations, including a term as 1995 ASHA president. A sought-after speaker, she has presented more than 150 workshops worldwide, speaking from experience as a school clinician and administrator as well as an investigator.