When the play "If All the Sky Were Paper" opens at Chapman University Thursday, one of the letters brought to life on stage will give the audience a glimpse of what it was like to be a point man in a Vietnamese jungle, under siege by machine gunners for 36 hours, hunkered down next to a dying buddy.
But for one man in the Veterans Day audience, it will be more than a glimpse. It will be his story and a remembrance, too, of that June day in 1969 when his patrol stumbled upon a North Vietnamese battalion base camp. The letter that Bob Leahy, 62, of Tustin, wrote to the family of his fallen comrade is just one of many playwright and author Andrew Carroll chose to include in the play, which has its world premiere at Chapman University.
"I was amazed when Andy (Carroll) contacted me, because Vietnam is ancient history to most people," Leahy says.
Carroll, however, is not most people. In 1998, the author launched
the Legacy Project
– a national, all-volunteer initiative that works to find and preserve
wartime correspondence
from all of America's wars.  He has traveled to 40 countries, including Iraq and Afghanistan, to seek out what he calls "the world's greatest undiscovered literature," and has collected more than 85,000 previously unpublished letters (and now e-mails) from every conflict in U.S. history.  
If All the Sky Were Paper
was written by Carroll based upon his
New York Times
bestselling books
War Letters
and
Behind the Lines
. 
Student actors – most around the same age as the letter-writers were in their time – will take on the roles of the military members and their loved ones at home, acting out the full spectrum of emotions and experiences contained in the letters.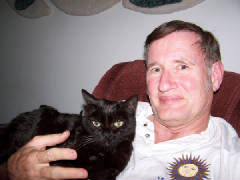 The Leahy letter that caught Carroll's attention for the play was actually written in 1993 when Leahy connected online with the family of Steve Etherton, the fellow point man who died in that fateful attack in 1969. Leahy said it was not a letter he could write as a young solder, partly because of his youth and partly because he was unwilling to say anything about the unpopular war.
"There was so much hostility when we got home, I just hid," Leahy says.
Now he's both willing and able, having come to terms with the war's impact on him personally and crafting his writing skills. Prior to retirement, Leahy published and wrote a financial newsletter. He'll be in the audience at Thursday's world premiere and again at Saturday's performance, which is free to all veterans and active-duty service personnel.
If All the Sky Were Paper
, which runs at the Waltmar Theatre on campus, Nov. 11-13 and 18-20.  All shows are at 7:30 p.m., with an additional matinee on Saturday, Nov. 20 at 2 p.m.  Tickets are $20 general admission, $15 for students and senior citizens, and may be purchased at the door on performance nights or in advance by phone at 714-997-6812 or online:
www.chapman.edu/copa/calendar/ticketSales.asp
.