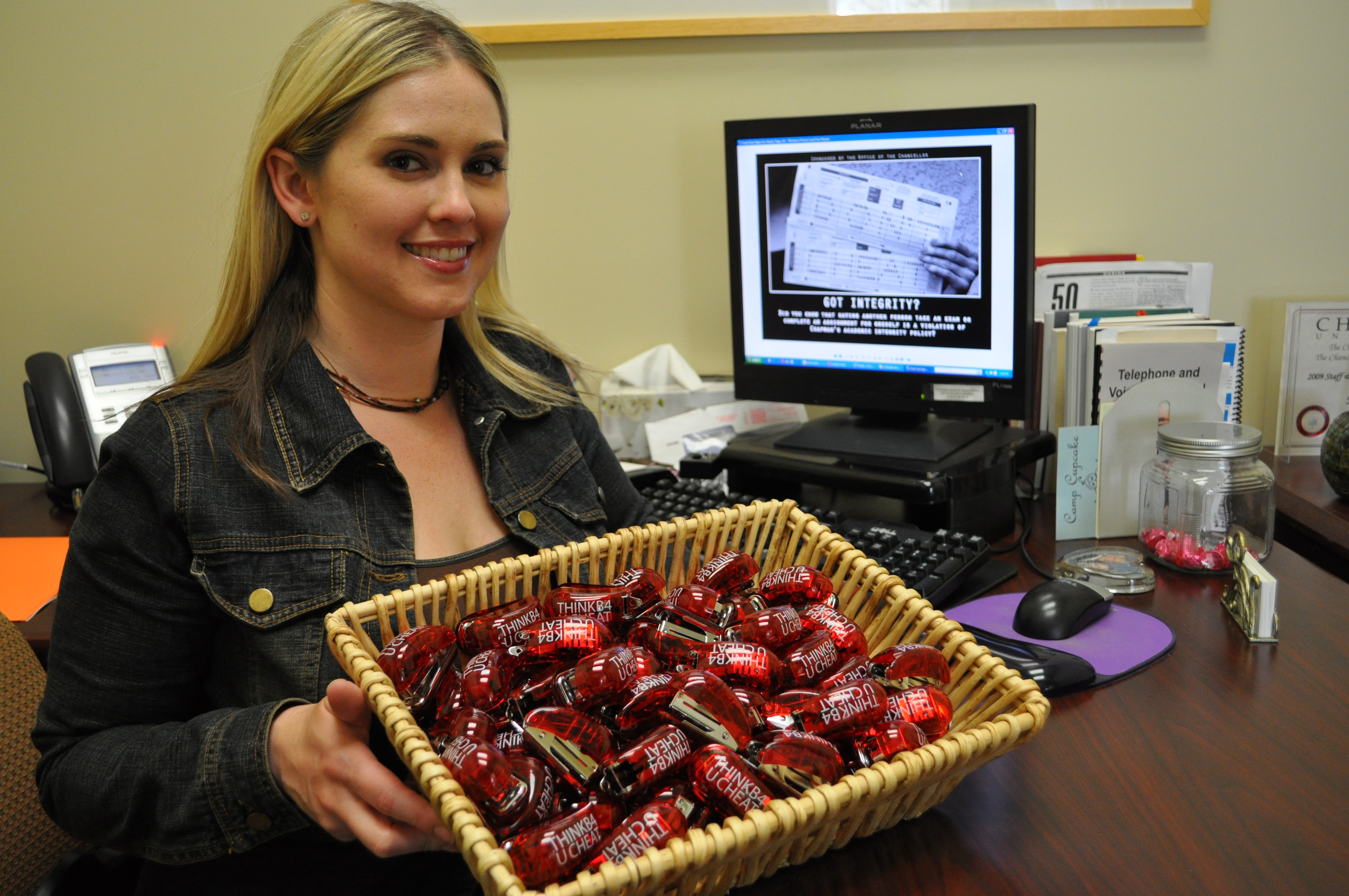 Academic dishonesty is a tough subject to talk about, but Natalie Blalock is tackling it head on.
"I'm just trying to create awareness," says Blalock, administrative assistant to the vice chancellor for faculty affairs and assessment, and the woman behind this week's Academic Integrity Awareness Campaign underway at Chapman.
Blalock has been working on the issue for more than a year, but she chose the days before finals week to push the topic into the forefront.  If you haven't stopped by her information table in front of Argyros Forum this week, there's still time – she'll even reward you for your visit with a little red stapler stamped with the message, "THINKB4 U CHEAT." Blalock staffs the table daily from 11 a.m. to 1 p.m.
And if you're faculty, odds are good that this '06 public relations/advertising alum will flag you down because part of her mission is to help professors grapple with academic dishonesty. She urges faculty to visit the program's Facebook page to see the flow chart detailing the steps to take if cheating is suspected.  She also asks that they take a look at her discussion-starting question there – "What can we do to promote academic integrity awareness on campus?" (You can weigh in on the topic by posting here at Happenings, too. Any thoughts or suggestions you can share?)

"Faculty need to hold students accountable," Blalock says. It would appear that many faculty are clamping down. Reports of cheating to Chapman's Academic Integrity Committee have risen recently, from 17 in 2007-08 to 32 in 2008-09, says Blalock, who serves as administrative support to the committee.
Blalock's project is possible through a staff enhancement grant she was awarded which she's used to create a variety of resources for faculty and students, including the
Facebook
page with links to Chapman's policies and procedures regarding cheating, plagiarism and other forms of academic dishonesty.
Perhaps best of all are the sites with tips on how to avoid inadvertent plagiarism, a common problem that isn't necessarily devious, but troubling nonetheless, Blalock says.
"A lot of students don't learn how to cite their sources (on research papers) in high school and it's not discussed at orientation," Blalock says.