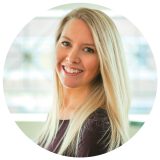 Even today, 17 years after Sara LaBelle first set foot on a college campus, her memories of feeling like she didn't belong are as easy to summon as breath.
"There was a lot of self-doubt," recalled LaBelle, Ph.D., now an associate professor in the School of Communication at Chapman University. "When you're a first-generation college student, it seems like everyone else knows what they're doing and you're alone – not understanding the terminology or the process of college."
These days, the chance to demystify that process inspires LaBelle's research and mentorship at Chapman, where she leads an effort to more effectively communicate with and empower the 18% of CU undergraduate students who are the first in their family to attend college.
LaBelle is collaborating on her research project with faculty colleagues and students who are determined to champion a first-gen culture of "resilience, pride, belongingness and intent to persist to graduation," as it says in their project summary.
"We're trying to experimentally test messages that support [first-generation student] culture," LaBelle said. "We have a really robust first-gen program at Chapman, and the latest class includes the highest percentage of first-gen students [22%] we've ever had. So the challenge for all of us becomes, how can we continue to change the narrative for this growing number of first-generation students?"
Student-Run Program Promotes a Sense of Belonging
That research-driven narrative first started to take shape a year ago, when a class project in LaBelle's School of Communication course "Advanced Message Design" grew to become a first-gen support program specifically for communication students. By the end of the fall 2021 semester, the Trailblazer Program was up and running, with tangible benefits to celebrate, including a point-of-pride purple stole that the first class of Trailblazers wore to the end-of-year School of Comm award ceremony.
"This group of 35 students really met the challenge of creating a new program – a mission statement, program goals, a name, a logo," LaBelle said. "It's one of the best classes I've ever taught. The students saw that they could have a tangible impact on the school."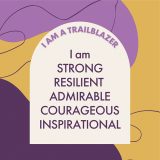 The idea for turning the class into a research project sprang from the way LaBelle saw students reacting to messaging such as is shared via an "I Am a Trailblazer" poster: "I am strong, resilient, admirable, courageous, inspirational."
"At the beginning of the semester I had students do some research on the first-generation student experience, and as things progressed it got more and more exciting. I found students wanting to be first-gen," she said.
Instead of distancing themselves from their first-gen status – perhaps even being embarrassed by it – students embraced it.
"We would hold Trailblazer meetings, and students would say, 'Hey, I'm not totally first-gen, but can I come?' That inspired me to write this research project – to specify what messages will create this sense of pride for first-generation students, because that's so important," LaBelle said.
Collaboration Across Disciplines Elevates Research
A $10,000 Chapman faculty grant helped launch the research project, to which LaBelle recruited faculty colleagues Megan Vendemia (School of Comm), Claudine Jaenichen (information design expert in the Department of Art), Stephany Cuevas and Quaylan Allen (both in the Attallah College of Educational Studies with expertise in building programs to support underrepresented communities).
"I basically put together an Avengers team for creating first-generation messages," LaBelle said with a smile.
First-gen student Erick Cunanan '23 (MA '24) has contributed to the research project from its start, eventually becoming LaBelle's research assistant. He said it was meaningful to collaborate with other students in a peer-driven project, and it was invaluable to participate in workshops with LaBelle and the other faculty mentors.
"I know the struggles, and I really want to uplift first-generation voices on campus," said Cunanan, a double major in psychology and strategic and corporate communication who is also earning an accelerated master's in health and strategic communication. "I feel like it's my duty and passion to help the community at Chapman."
'It's Rewarding to Provide a Platform for Students to Find Themselves'
As the inaugural president of the School of Communication Trailblazer Program, Kyle Tanimura '23 (MA '24) sees first-hand how the program is connecting with first-gen students. A recent networking workshop he hosted was so well attended that the conversations spilled out of the classroom meeting space and into the lobby of Doti Hall.
Other similarly popular Trailblazer events include a career-focused panel discussion involving first-gen School of Comm alumni, as well as information sessions on internships and study-abroad opportunities for students.
Tanimura is also president of Chapman Kapamilya – a Filipino student club that has helped him connect with his cultural heritage and represent it with pride.
"I want the Trailblazer Program to do that for first-generation students," said Tanimura, a double major in political science and strategic and corporate communication who is also minoring in dance. "Even though I'm not of first-gen experience, it's rewarding to provide a platform for students to find themselves."
A Narrative Shifts From Deficits to Strengths
As Trailblazer also builds bridges to Promising Futures and other university-wide first-generation programs at Chapman, the insights that come from Trailblazer research and experience will continue to bolster an overall culture of achievement, LaBelle said.
In Trailblazer and beyond, it's clear that the nuances of first-gen messaging matter.
"Traditionally, a lot of the messages have been deficit-oriented," said LaBelle, who is also assistant dean of academic programming and faculty development in the School of Communication.
"It's not malicious or inaccurate messaging – first-gen students do tend to struggle at universities," she added. "But what does it look like when we shift the narrative and start calling them trailblazers? What about when we start emphasizing that first-generation students bring something unique to their classes – that they have strengths and resilience and perspective that continuing generations don't? What if we create something that's a cool club to be a part of?"
The coolest part of the programming and research effort may be that it's just beginning, so new insights are likely to keep feeding Trailblazer's forward momentum.
"For me, the big takeaway from phase one [of the research] is how much better we are together," LaBelle said. "It's astounding to sit down with Megan, Claudine, Stephany and Quaylan in a setting where we share ideas and learn from each other. Then, as a first-generation student myself, to feel like I'm making an impact and giving back is also immensely rewarding."