On May 4, "Star Wars" Day, fans worldwide celebrate the beloved and archetypal franchise. For Chapman University alumni Britney Lee '21 and Grant Ward '22, however, every day is "Star Wars" Day. The two are living their dreams, working for Lucasfilm, one of the most iconic film companies ever.
"It's a dream come true to participate on this show," said Lee, a production accounting clerk during prep, production and wrap for the new Disney+ television show "Ahsoka," which will premiere on the streaming platform in August 2023.
Lee's role included corresponding with the crew, vendors and departments for accounting inquiries, maintaining sensitive financial and production documents, building databases and managing digital and physical filings.
"My favorite part of the job was learning how every unique department shines," Lee stated. "Seeing such rich world-building was unreal. Almost everyone is a "Star Wars" fan, so being surrounded by colleagues who are collectively giddy and in awe of the production was so much fun."
A Jedi's Power Flows From … Visual Effects
Ward worked on another upcoming "Star Wars" project, "Skeleton Crew," where he was a visual effects (VFX) production assistant. "Saying this has been a dream come true can't even begin to describe what it's like to be here," Ward said.
During production, his primary role was running "witness cameras" on set. For any scene that would later need VFX work, he recorded footage of the principal camera(s) and everything in the frame of what was being shot, such as the actors, lighting sources or VFX elements. He also helped set up tracking markers or run a "ball pass," where he'd hold a gray ball in front of the principal camera during a clean plate to help capture lighting and color data.
"My favorite part about this job has been seeing what a television series production looks like from start to finish," Ward said. "I've learned so much and continue so every day. I'm so lucky to be surrounded by the industry's kindest and most talented people too."
Ward studied film production at Chapman with an emphasis on film editing. As a transfer student, he dove headfirst into post-production and editorial work on student projects. During COVID, he freelanced for a popular TikTok/YouTube creator.
"The biggest advantage I had coming from Chapman was my set experience," Ward said. "Even though this was my first time on a real Hollywood production, everything felt the same as what I had been doing at school, just to a considerable degree."
Chapman Connections Help Careers Make the Jump to Lightspeed
Ward credits the Chapman community for securing his job at Lucasfilm, as connections with classmates got his foot in the door. Lee also benefited from Chapman Family connections, as an alum working on the Disney+ series "The Mandalorian" informed her about the position and passed along her resume.
As a creative producing major within Dodge College College of Film and Media Arts, Lee felt that Chapman prepared her for her role by providing foundational knowledge of how a production operates.
"Things like production documents, knowing the different unions, the different crew jobs and departments, and the basic structure of a film production allowed me to understand the work world I was existing in," Lee explained. "It helped to know what someone was talking about when referring to these things. Learning these on the job or in general can be intimidating, so having this knowledge from school helped me feel more comfortable."
Now that she's working in the industry alongside her classmates, Lee advises Chapman students and recent graduates to keep in touch with their friends and classmates.
"Things are surprisingly interconnected," Lee stated. "If you're a fan of a film/show/company, it could be helpful to see if you have any connection with anyone there, even if it's a bit far removed. Opportunities often arrive from out of nowhere."
Ward concurred, offering similar advice to recent grads and current students: "My best advice is to simply be aware of the community you're in right now. Meet everyone you can and don't lose touch with your peers!"
Dodge College Classmates Follow Film Industry Passions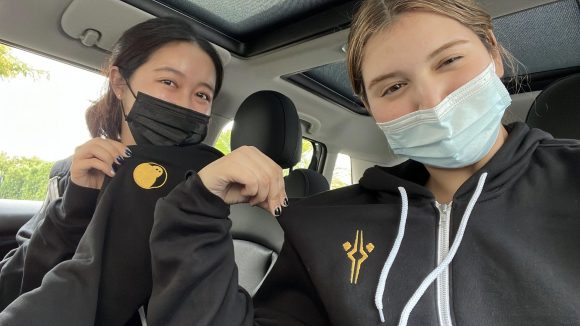 For Ward, "Star Wars" was the series that first interested him in filmmaking, and now he gets to work alongside the people responsible for his passion.
"Everything I fell in love with when I first started making movies is still present in this current job," he said. "It's such a special industry to work in, and I can't wait to see and meet more Chapman alumni going forward!"
Ward and Lee didn't know each other before working on "Star Wars," but as Lee described, "It was cool to meet Grant on the job only to discover that we're both Chapman alums!"
Alongside Ward, Lee feels privileged to have worked with her Dodge College classmates and friends Delfin Lee '21 and Johanna Jenneman '20 specifically in the accounting department on "Ahsoka."
"There is a great Chapman presence at Lucasfilm at all levels," Lee explained. "Everyone I encountered was excited to find another Panther, and there is a sense of community and connection with fellow alums. Panthers are everywhere now, and it's comforting to have some shared experiences!"
Read more about what Chapman University Alumni are up to on our Class Notes page — and submit your own life updates for a chance to be featured!