A Chapman University alumna is helping Disneyland Resort meet its ambitious goal of sending zero waste to landfills by 2030.
Lotus Thai '17 is the environmental integration manager down the road from her alma mater at Disneyland Resort.
"My job can be challenging, but I love it," says Thai, who also teaches corporate sustainability part time at Chapman. "That keeps me going. So it might look like I'm doing a lot, but because I enjoy it, it doesn't feel like a lot."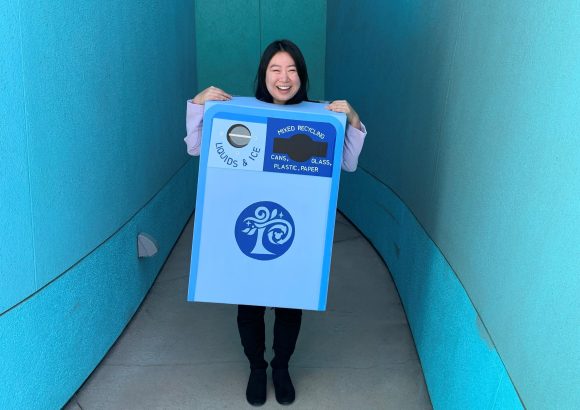 From fifth-grade biology to Chapman
Thai's interest in science started in childhood, and grew in fifth grade when a visiting microbiologist let her class "swab anything and everything." That scientist later showed the students bacteria that grew from the swabs, she says.
She took Advanced Placement environmental science her junior year of high school, and her mother told her she "lit up" whenever she spoke about it. Thai, whose parents both ran businesses, planned to major in business.
"Science was to me the fun stuff," she says.
She wanted to go to college in New York, but still applied to Chapman after her father, who often drove by the campus on his way to work and noticed its beauty, said she should fill out an application.
"What I also tell my students is that things work out – it might not be the path that you thought you were going to take. But everything works out and when you look back, you're like, my life could have been really different if I didn't go to Chapman," she says.
Thai, a first-generation college student, double majored in environmental policy and business administration. It was the overall Chapman experience that helped prepare her for her career – "soft skills that you don't learn in a traditional classroom," she says.
Her Chapman experience included working in the Student Engagement office, advising faculty through Schmid College of Science and Technology's Student Leadership Council and planning events through the University Program Board.
From Chapman to Disneyland
Starting her first year, she participated in what she calls the most intense experience of her adulthood – Solar Decathlon. The collegiate competition organized by the U.S. Department of Energy challenges teams to build a house to "demonstrate creative solutions for real-world issues in the building industry."
"It really threw me in the deep end – I had to use time management, project management, collaborate with people who don't think the same way," says Thai, who was part of a team of Orange County students. "It really gave me a crash course in what the real world is like."
Thai also interned during college for Orange County Coastkeeper and ECOS.
ECOS – led by Kelly Vlahakis-Hanks (MBA '16) – was Thai's first experience with corporate sustainability.
"That was when I was like, 'I could do something like this for the rest of my life,'" she says.
Since she began working at Disneyland Resort, Thai says she has learned a lot, including that sustainability is more complex than people think.
"It's not as easy as, 'We're going to have reusables in every single restaurant,'" she says.
For example, a restaurant in Star Wars: Galaxy's Edge had a reusable spork. Because the utensil "looked so cool, everyone kept taking it," Thai says.
"We care about sustainability and we want to reduce waste but at the same time, how many sporks can we keep replacing?"
Imagination and collaboration
Once Disney reaches its 2030 sustainability goals – net-zero greenhouse gas emissions, zero waste to landfills, water conservation, low-impact products and sustainable buildings– "I don't think there's anyone out there who can say that they can't do it," she says.
Thai's work towards zero waste at Disneyland Resort involves both infrastructure and psychology.
"I can put the right kind of landfill can, mixed recycling can and food can out there. But how do I get guests and cast members to actually use it correctly?" she says.
One of her ideas was surprising guests with a collectible pin if they sorted their waste correctly in Tomorrowland.
"We're harnessing the Disney brand and rewarding people for doing the right thing," she says.
In addition to her day job, Thai shares with Chapman students everything she's learned working in corporate sustainability.
"I just knew that I always liked teaching," says Thai, who was a substitute teacher for a little while after graduating. "I think it goes back to the teachers that I had growing up but also the teachers at Chapman – they did so much for me."
One key thing she's learned in the sustainability field is that different departments must work together.
"If the students can do that, when they go out into the workforce and they apply that type of thinking, it helps build credibility because they're able to put themselves into someone else's shoes and help that other person solve their challenges," she says.
Students who want to work in sustainability should do something they like within that area, she says.
"If you really like graphic design, a lot of the time I'm trying to figure out how to design a mixed recycling trash can. A graphic designer would be perfect for that," she says. "Sustainability is that unique field where you can grab two things and combine them."
A student who ventures into that world just might end up at the Happiest Place on Earth.