Leap

of
Art
On stage and in the classroom, Musco Center performers enrich scholarly explorations.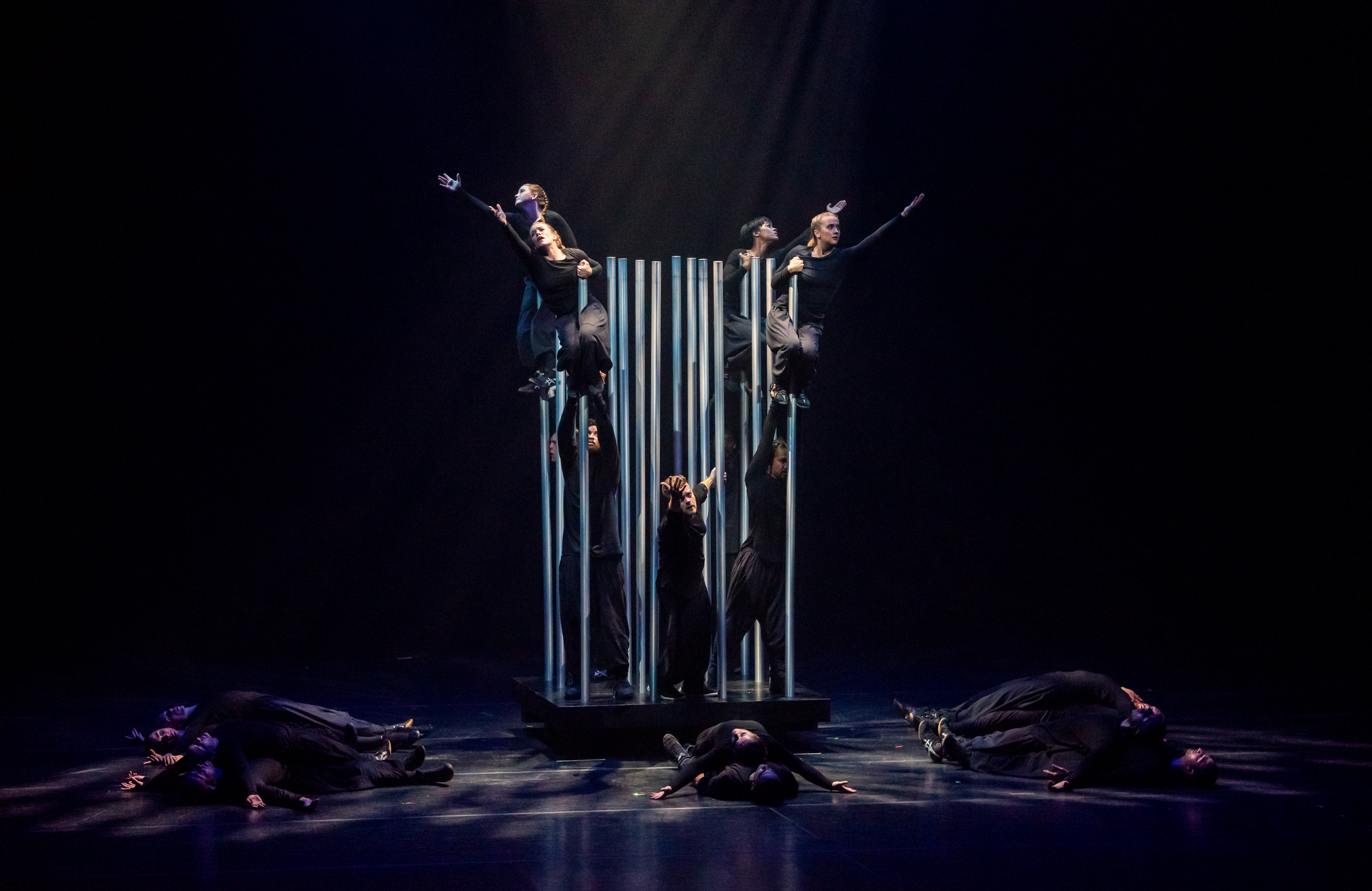 When a performance begins with introductions, expect that a conversation will follow.
As the curtain rose for "The Veteran's Project" at Chapman University's Musco Center for the Arts, a crisp line of dancers appeared on a shadowy stage, barely illuminated by spotlights pointed at each dancer. A mist of fog hung heavy in the air, imparting an otherworldly mood.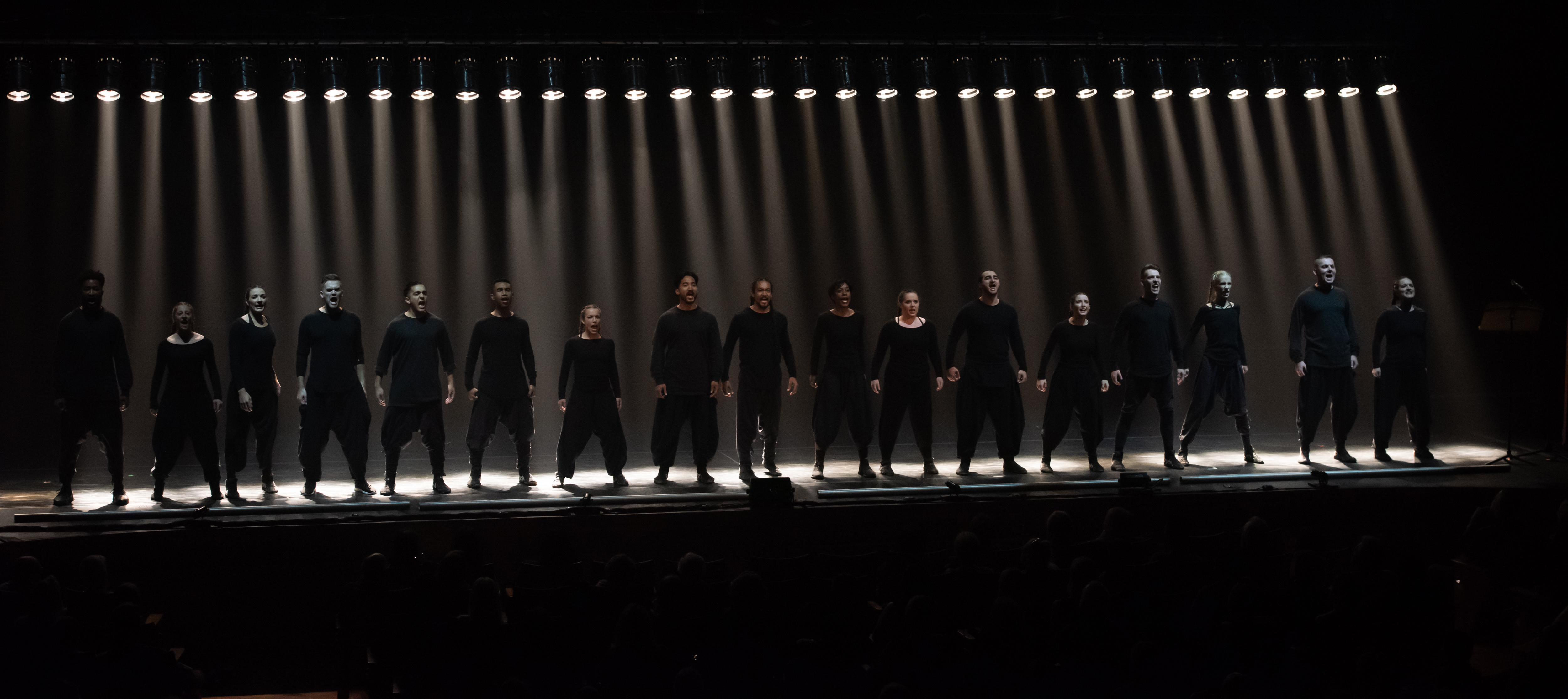 "Works of art can say things that can't be said in words."
One by one, the dancers – many of them military veterans, Chapman students and alumni – bolted forward to shout their names. Each shout was prefaced with a confident "I am …" The contemporary dance that followed was a spectacular performance built around large set pieces – not for nothing is the Los Angeles-based dance company's name Diavolo/Architecture in Motion.
But those named performers were not strangers anymore, so when the house lights returned and the dancers and choreographer assembled on stage for a Q&A, the experience grew into something unlike typical arts performances. And everyone came away a little bit changed, perhaps most of all the students — many of whom are in the College of Performing Arts.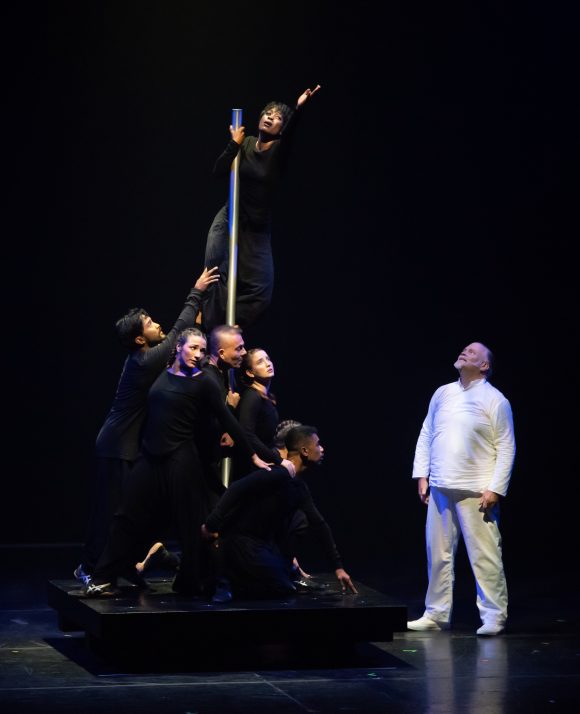 Therein lies the soul of Musco Center's new Leap of Art Initiative, which along with Musco's companion master classes is creating an integrated, rewarding experience for students, as well as moving performances for audiences. Together, the artist residencies and special programs planned into Musco's regular season are part of its expanding role as an academic player within the University and the community beyond.
"Works of art can say things that can't be said in words," said Richard T. Bryant, Musco Center executive director.
The Diavolo performance of a specially commissioned piece featured a company of dancers that included eight service veterans drawn from the local community. The piece was designed to connect to the University's growing number of veterans in its student body. Last year, Chapman established its new Veterans Resource Center, and the University now has more than 100 veterans and military dependents enrolled as students.
The Musco experience was profound for Chapman student Justin Stirewalt '22, an Air Force veteran enrolled in Chapman's screen acting program and one of the professional dancers selected for The Veterans Project. The demands of Diavolo pushed him to grow in unexpected ways beyond the learning of new dance moves modified to safeguard a damaged knee but still keep him in the work.
"It changed my perception of myself and things I thought I couldn't do, mentally or physically," he says."There were a lot of times that I had to determine the difference between things I didn't want to do and things I physically can't do. And that distinction has been very helpful for me. That's a dialogue that every single past and current military member has to have at some point."
Musco's Leap of Art programming expands on multiple areas of scholarly focus at Chapman, including behavioral therapy and the history of the incarceration of Japanese-Americans during World War II.
In spring 2020, students will work with Kevin Spencer, a world-renowned illusionist and teaching artist who has developed strategies for including magic and art-based therapy in the treatment of traumatic brain injury, autism and Alzheimer's. A performance of the Mac King Comedy Magic Show at Musco will cap off his weeklong residency.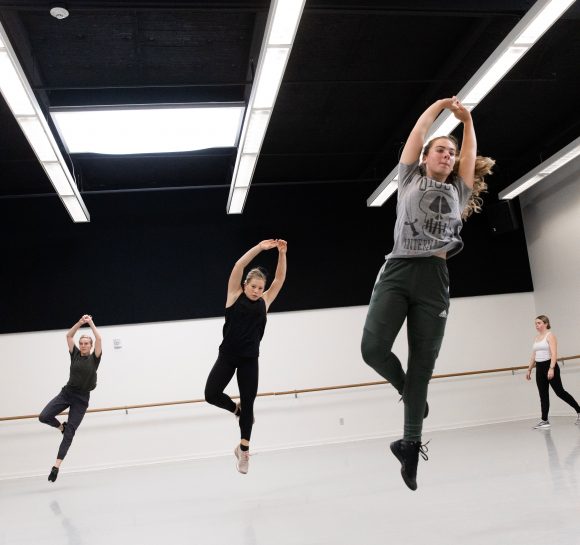 Similarly, art and history will intersect for faculty, students and participants in Chapman's planned WWII Japanese-American Incarceration Memory Project. They'll study with composer and filmmaker Kishi Bashi — the stage name of the classically trained violinist Kaoru Ishibashi — when he returns to campus for a weeklong residency that concludes with an April 1 concert of music from his new film "Onoiyari." The documentary and album feature music the artist created in locations relevant to the Japanese American Incarceration during WWII.
Such connections also spring from the center's robust Musco master class schedule, another arm of Musco programming that bridges classroom learning with real-world experience. The master class offerings put students and guests in intimate workshops, Q&A discussions and rehearsals with the renowned performers, scholars and artists performing at Musco. (Circle of Friends members are invited to observe.)
Among this fall's master class highlights were a Q&A with presidential historian and author Doris Kearns Goodwin, side-by-side rehearsals with the musicians from the world-renowned Academy of St. Martin in the Fields, and madcap workshops with the groundbreaking improvisational comedy company Second City.
When Second City performed at Musco, a handful of students joined the troupe on stage for a portion of the show, including screen acting major Stephanie Reedy '21.
"It was an incredible opportunity. Certainly, Second City doesn't come to every university. It's such a name and everyone knows about it in the improv world," Reedy said. "It felt very big to have these pros come in and work with us right on campus."
It's all part of the magic Musco's programming adds to the learning experience, says Chapman Provost Glenn Pfeiffer, Ph.D.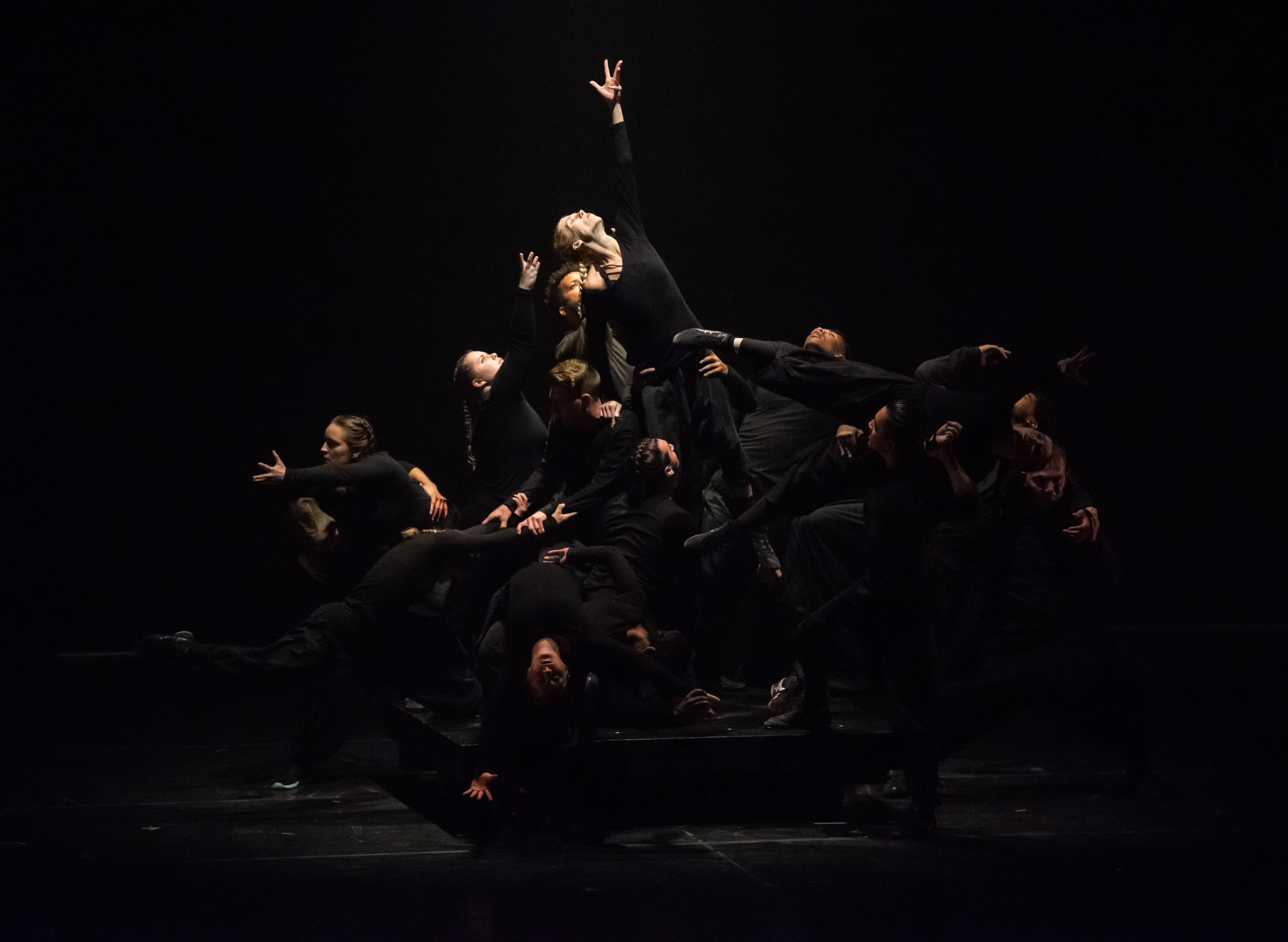 "They contribute to Chapman's promise to deliver personalized learning and meaningful community engagement. The Leap of Art Initiative extends that spirit of learning to the community by designing performance events that include unique artist and audience interactions in a university setting," Pfeiffer says. "We all benefit from these creative and intellectual collaborations."
Students like Reedy couldn't agree more. Improv may be fleeting, but the memories are lasting.
"Everybody in the audience was laughing and having a good time," she says. "It was a crazy cool experience."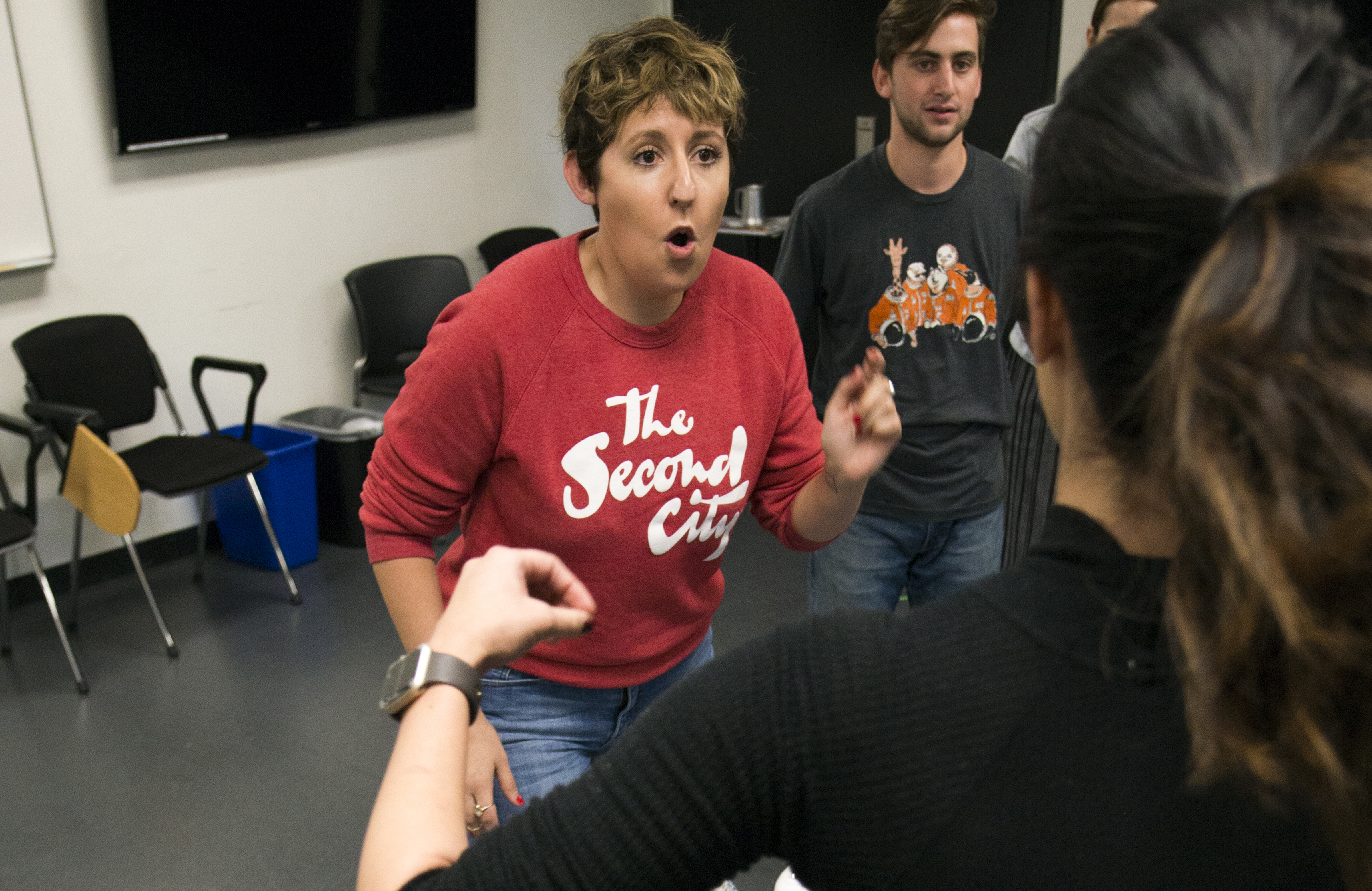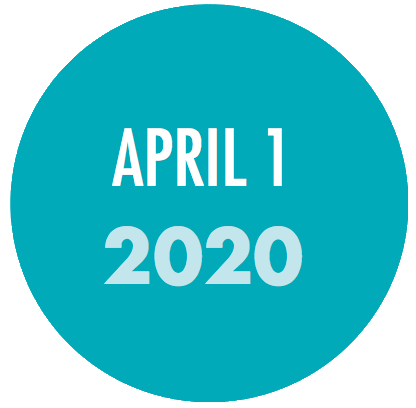 Kishi Bashi With Chamber Orchestra
The concert culminates a Leap of Art residency during which the performer works with faculty, students and participants in Chapman's WWII Japanese-American Incarceration Memory Project.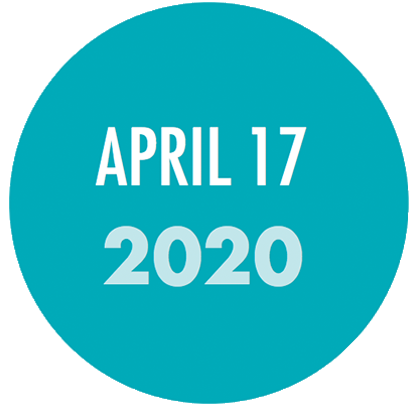 The host of "Finding Your Roots" on PBS discusses his research on how genealogy and genetics provide greater understanding of history and appreciation for cultural diversity. Gates' visit includes a master class with Chapman students.