Schmid College recently hosted its inaugural Grand Challenges Initiative (GCI) Networking Event, where first-year students in the GCI spent the morning making connections with industry professionals and science professors in an effort to begin building their first professional network and to develop their professional communication skills.
Nearly 80 GCI students, science professors and industry professionals attended the event, including Grand Challenges Advisors, Guy Abramo, President of Consumer Services at Experian, Paul Cook, General Manager of Irvine Ranch Water District, Chapman's Chief Information Officer Helen Norris and Jeff Winston, former Vice President of Information Services for Allergan, Inc. Chapman's Vice Provost of Undergraduate Education, Nina LeNoir also attended, providing professional guidance and new career perspectives to GCI students.
The event opened with name tags, coffee, pastries and discussions about the dream jobs attendees had written on their name tags. Even though it was early on a Friday morning, the room quickly filled with the chatter of folks greeting familiar faces and making new connections. Professor Greg Goldsmith, director of the Grand Challenges Initiative, brought the event to order with opening remarks and a few networking pro tips in the form of haiku:
Be yourself and smile
But brush your teeth beforehand
Poppy seed bagel

Volunteering good
Meet people who can help you
Leave world better place

Professors are cool
True they give you much homework
But also have friends

Cannot go wrong by
Saying please and also thanks
Please use your spell check

High risk high return
But is there really a risk?
Go big or go home
And with that the networking began!
Professors and industry professionals stationed themselves at cocktail tables around the room, while students in small groups rotated to each table. Students were prepared with questions: What did you think you wanted to be at age 18? What did you study? What do you do now? What were some of the intermediate steps and jobs along your career path?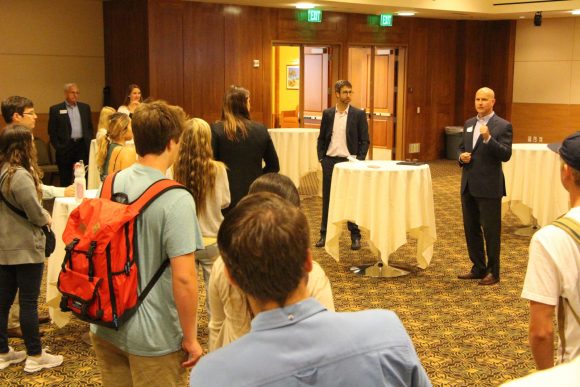 One goal of the event was to give students practical experience with the mechanics of networking, like moving in a room, asking questions and starting conversations with complete strangers. Another goal was for students to hear examples of career paths, which are not always as linear as you might expect. Many come with the notion that building a career is like climbing a ladder, but it is more like climbing a mountain. Your path may require you to make a horizontal move before you can reach the next level, or sometimes try a path that may not lead exactly where you expected.
During the networking rotations, the groups paused to hear professionals in the room talk about their journeys. Elaine Schwartz, Assistant Dean of External Relations for Schmid College and Director of the Chemistry Program, told the gathering about her journey from university to starting up a pharmaceutical company to now heading the Chemistry program at Chapman. Guy Abramo spoke about his path from university to a near-miss in professional baseball to now heading a division at global leader Experian. Paul Cook also addressed the gathering, saying that his passion to "build stuff" was the guiding star that led him through engineering school and helped him get his start as an engineer. It continues to motivate him as he manages the Irvine Ranch Water District.
The event concluded a little before 10:00 a.m. and there was a sense that folks were leaving the event with more than they came.