A group of 120 Orange High School students toured campus on a recent weekday morning, sitting in on classes and talks by professors as they visited the university next door that is an unfamiliar world to many of them.
"Even talking to the students today as we were walking around, I ask them things like, 'So, how many times have you been on this campus?' and they say, 'Well, we always go, like, outside of it. We never come into campus,'" said Terri Nii, a career technical education specialist with the Orange Unified School District.
 "We are so close to this campus and we want students to understand the possibilities that are there for them," she said. "So many times, they walk by the campus and they don't even think that, 'Hey, this is someplace where I can go. This could be my future.'"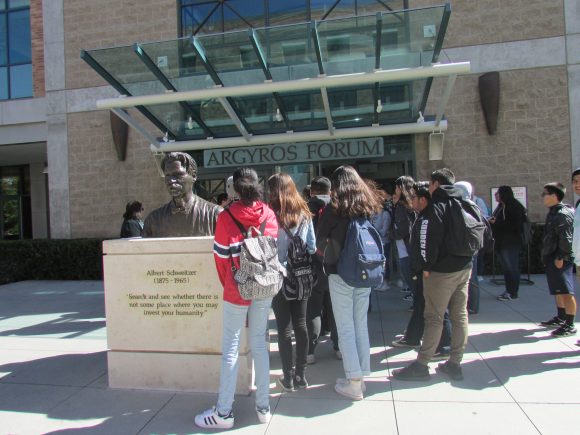 The students, selected for their interest in arts, media and entertainment careers, heard Bill Kroyer, professor and director of the Digital Arts Program in the Dodge College of Film and Media Arts, talk about animation and visual effects as varied as the talking pig in Babe and the realistic space scenes in Gravity.
Jack Horner, a paleontologist, Chapman University lecturer and Presidential Fellow who served as technical advisor for the Jurassic Park movies, talked to the students about the possibilities unfolding in genetics and developmental biology and his new book, How to Build a Dinosaur: The New Science of Reverse Evolution.
Erik Linstead, Ph.D., assistant professor of computer science and software engineering in the Schmid College of Science and Technology, discussed potential applications for artificial intelligence and virtual reality.
And after they sat in on a class with Chapman students learning about broadcast news with associate professor Pete Weitzner, he took the Orange High students to a Marion Knott Studios TV set and control room.
"Come by and watch a live newscast," he said, inviting them to return some Friday.
Chapman Vice Provost Joe Slowensky said the tour was initiated after the Orange County Department of Education approached the university. Though the initial visit focused on students considering careers in computer science, digital arts and digital media, there could be other areas featured on future tours.
"I think it's really tapping into the interests that a lot of these students have and showing them what taking it to the next level in college would look like," Slowensky said.
Though other schools could be involved in the future, Orange High came first.
"This is one of our key partnerships as part of our strategic initiatives to really engage more with our local community, and we want to bring students and their families from the local area to our campus so that they know that Chapman is a place that's accessible to them," Slowensky said. "We want to be on their radar when they're thinking about college, and we'd love for them to consider applying here."
Nii said students reacted enthusiastically to the campus, but had questions about college costs. Chapman students leading the tours emphasized the availability of financial aid.
Erin Pullin, director of Diversity and Inclusion at Chapman, said she expects more such tours.
"I think this is the first time that we've brought such a large group to campus and I think it's really the beginning of a lot more visits like this, from a wide range of schools," she said.
Display image/Television professor Pete Weitzner takes Orange High students inside the control room as they visit Chapman TV set.