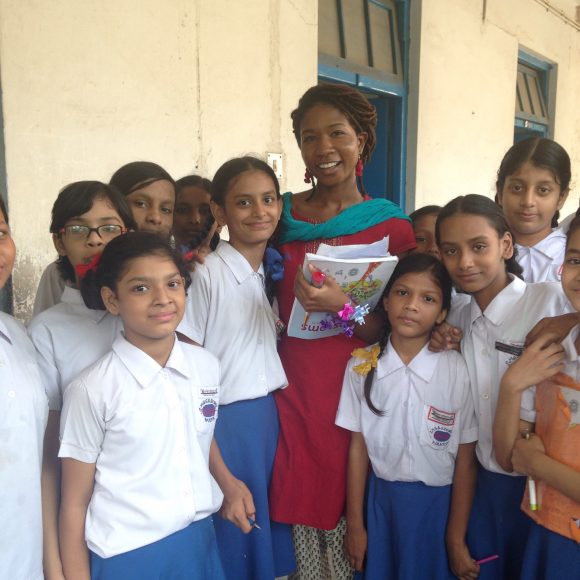 When peace studies and art major Nimah Gobir '15
applied to become a Fulbright scholar
in Kolkata, India, she didn't think she would be teaching classes by herself on her first day. "There were 50 kids in each section, and I didn't major in education," Gobir says in an interview via Skype from India. Though at first she felt a bit overwhelmed, Gobir now is comfortable enough to some- times teach English by playing American games. The students are getting particularly good at Heads Up Seven Up.
"They're absolutely crazy about it," Gobir says of her sixth- through twelfth- graders at the school for girls where she teaches. "My class 7 is really serious about it, and my class 8 consists of girls slapping their thumbs down."
Gobir is one of three recent Chapman graduates to earn a Fulbright English Teaching Assistantship for the academic year just ending. This year Chapman was recognized by the U.S. Department of State as a top source for Fulbright scholars, who study, perform research or teach where needed overseas. The University has produced at least three Fulbright winners in each of the past four years.
Joining Gobir as Fulbright winners are Megan McKeown '15, in Jordan, and Tiana Rees-Silva '13, in Taiwan.
In addition to teaching, Gobir runs an employability workshop and volunteers at a neighboring school in India. She conducts monthly programs like one commemorating Black History Month with the help of the American Consulate and other Fulbright scholars.
For McKeown, like Gobir a peace studies major, the destination was expected. She was already fluent in Arabic, having learned it at Chapman, but her transition to her teaching position in Jordan was still challenging. "At first it was really hard because my accent was so bad," McKeown says. "The girls would just laugh." Stationed in Amman, McKeown is a supplemental English activities teacher for third through 10th grade at a UN school for Palestinian refugee girls. Sometimes she found herself getting unexpected lessons.
"One day there were three girls who kept standing on top of their desk to stare outside the window. I told them to get down, but
five minutes afterward they were up there again," McKeown says.
Finally, she went to the window and looked for herself. The attraction was a boys' school next door.
McKeown also invests her time co-hosting the Senior English Club at her school. In addition, she works for the nonprofit Collateral Repair Project writing grant proposals for food and emergency assistance, and she teaches English at a Za'atari refugee camp on the Syrian border.
The work can be stressful, McKeown says. But it's worth it when she sees her students' own stress level drop.
This is a time of transition in the program, as McKeown, Gobir and Rees-Silva are concluding their Fulbright experiences while three more Chapman scholars are preparing to begin their service. For 2016 –2017, Damaris Bangean '16 will teach in Romania, Ashley Barba '16 in the Czech Republic and Esme Aston '16 in Malaysia.
Meanwhile, the end of the academic year brought the retirement of Eileen Jankowski, Ph.D., director of Chapman's Fellowships and Scholar Program. Julye Bidmead, Ph.D., will take over the role, helping students navigate the demanding process of applying for prestigious fellowships and scholarships such as Fulbrights.
"I've had so much help from everyone," Jankowski says.
For Barba, the new academic year and her Fulbright experience can't come soon enough. "I can't wait to immerse myself as well as share American culture," says the double major in integrated educational studies and disability studies. "I'm overwhelmed and thrilled all at the same time."